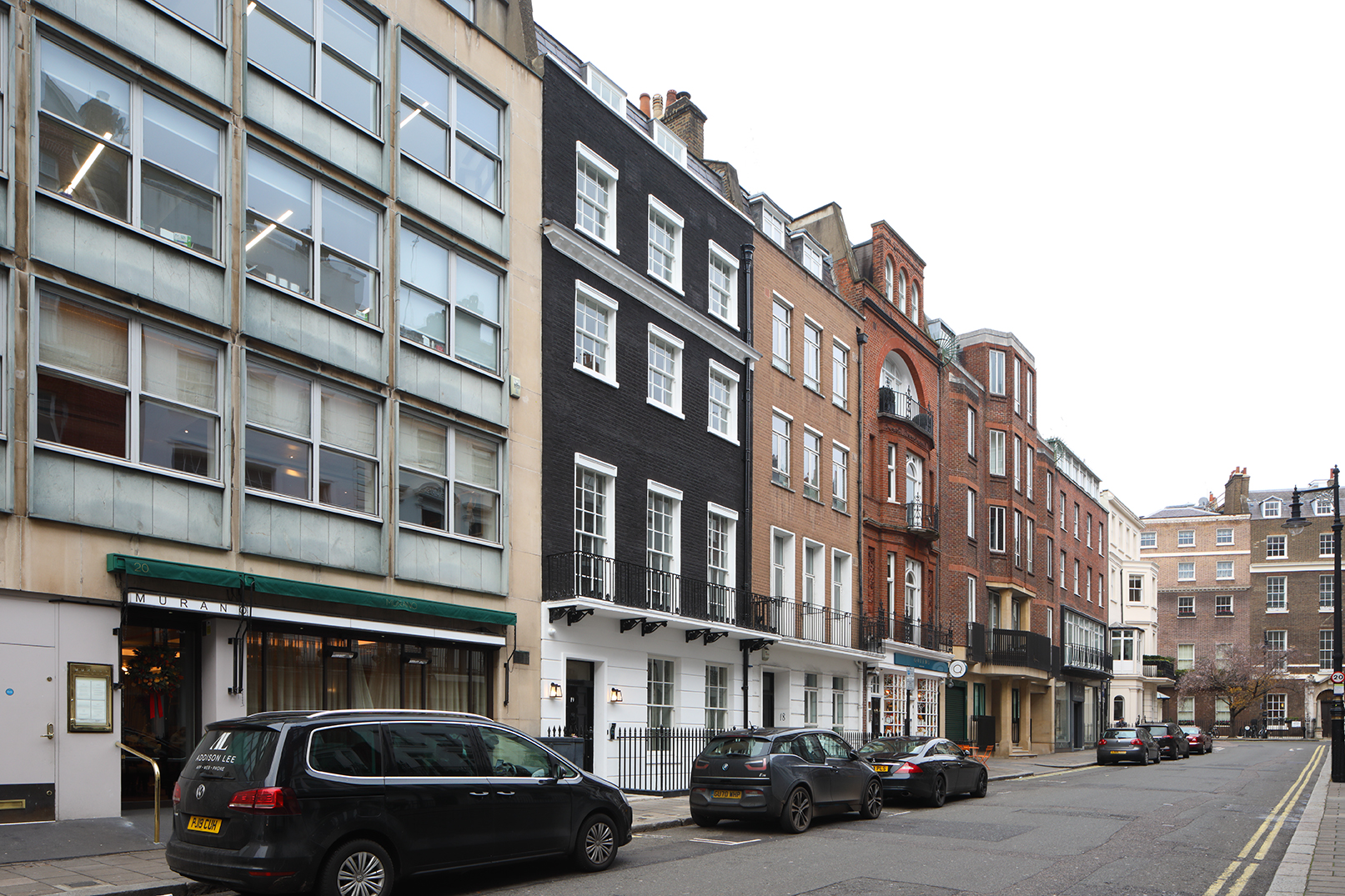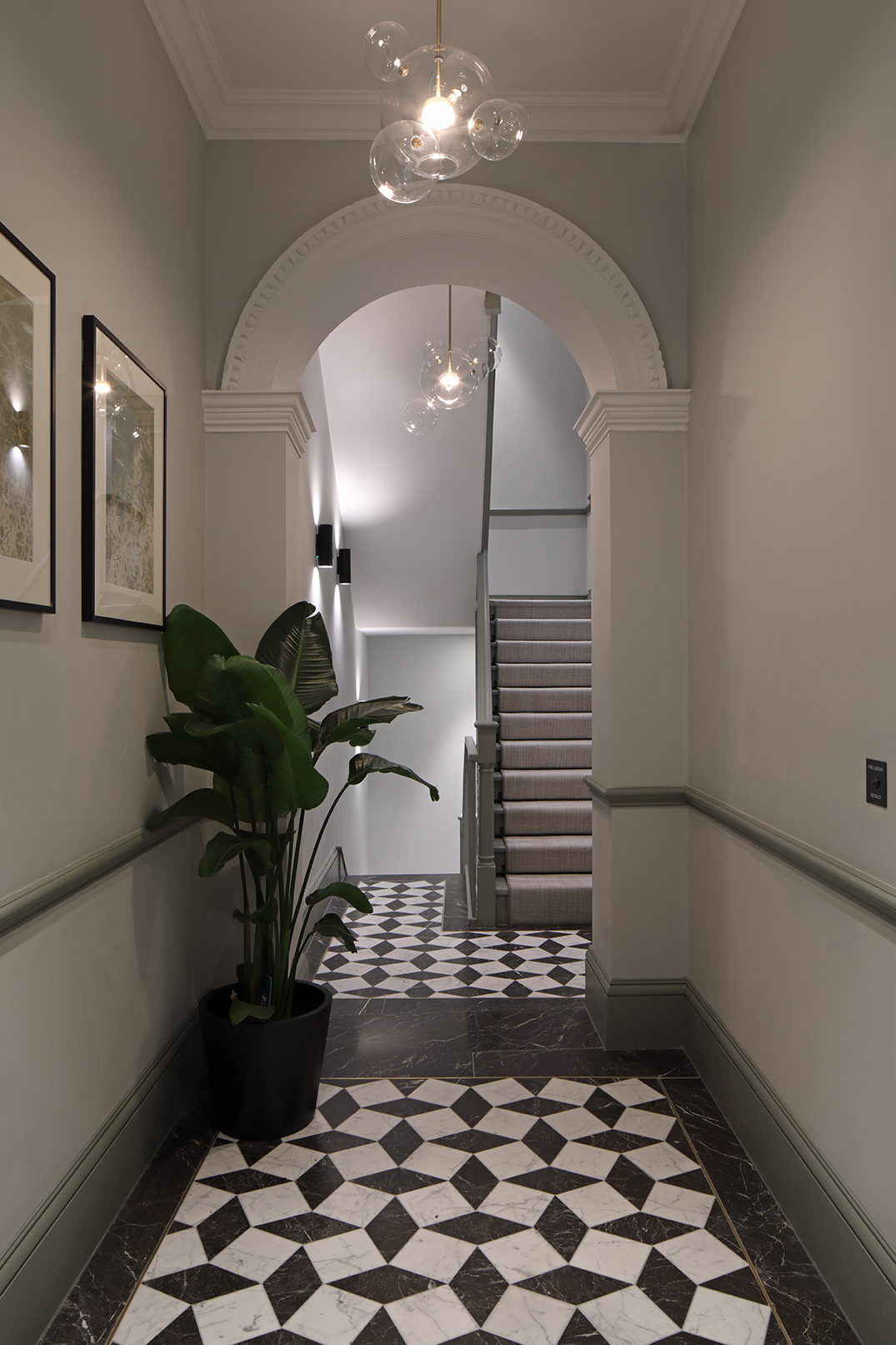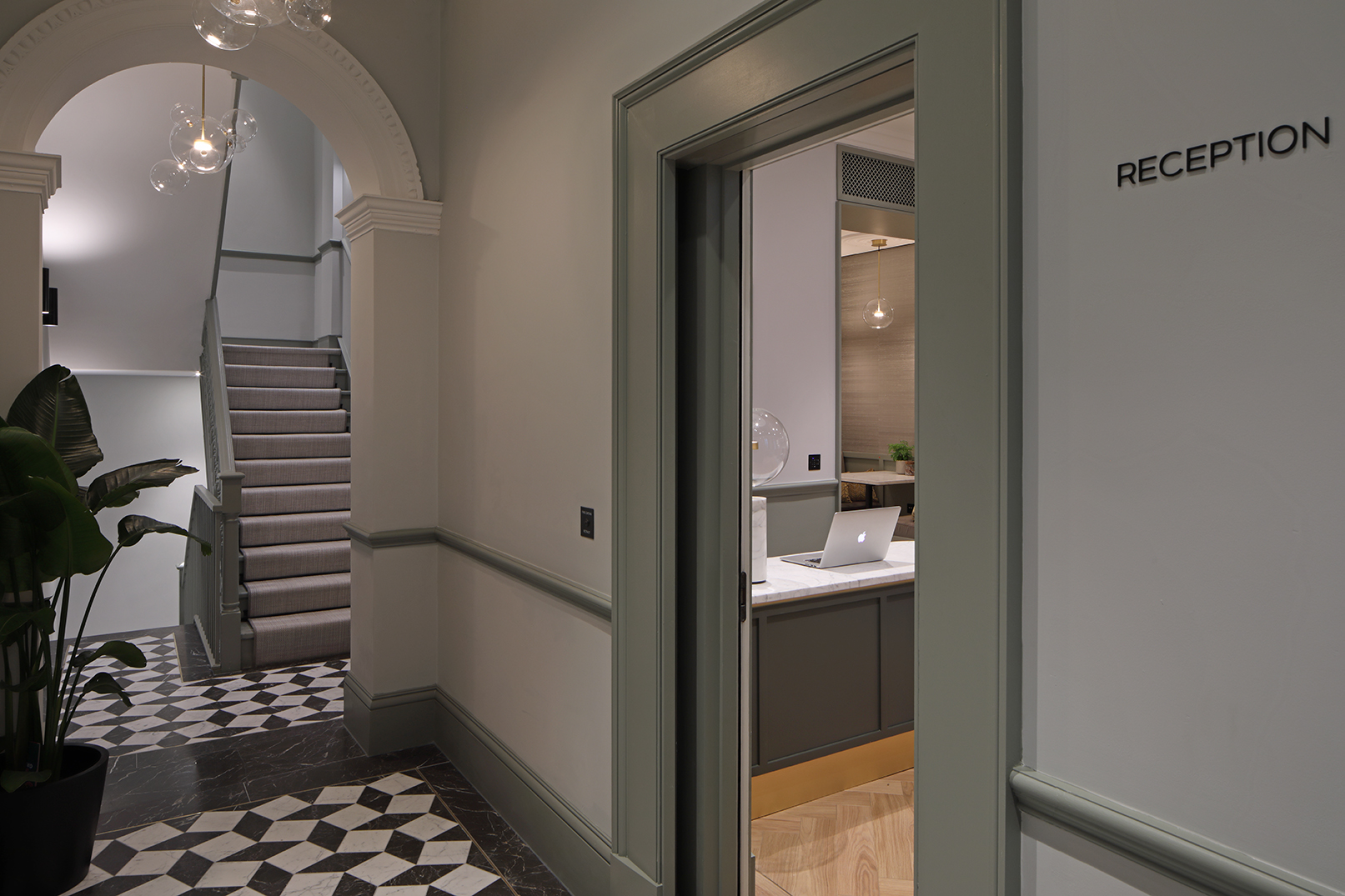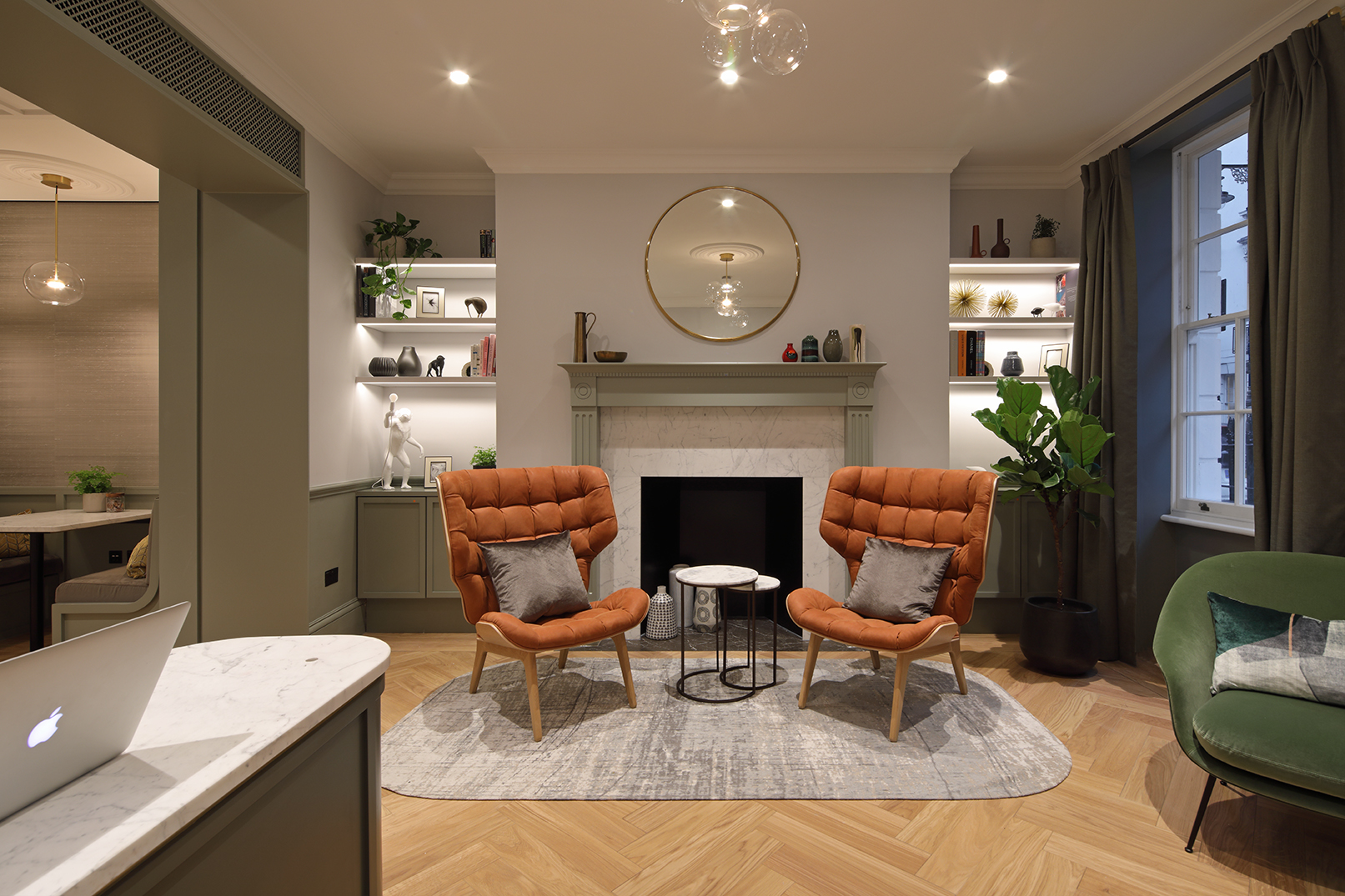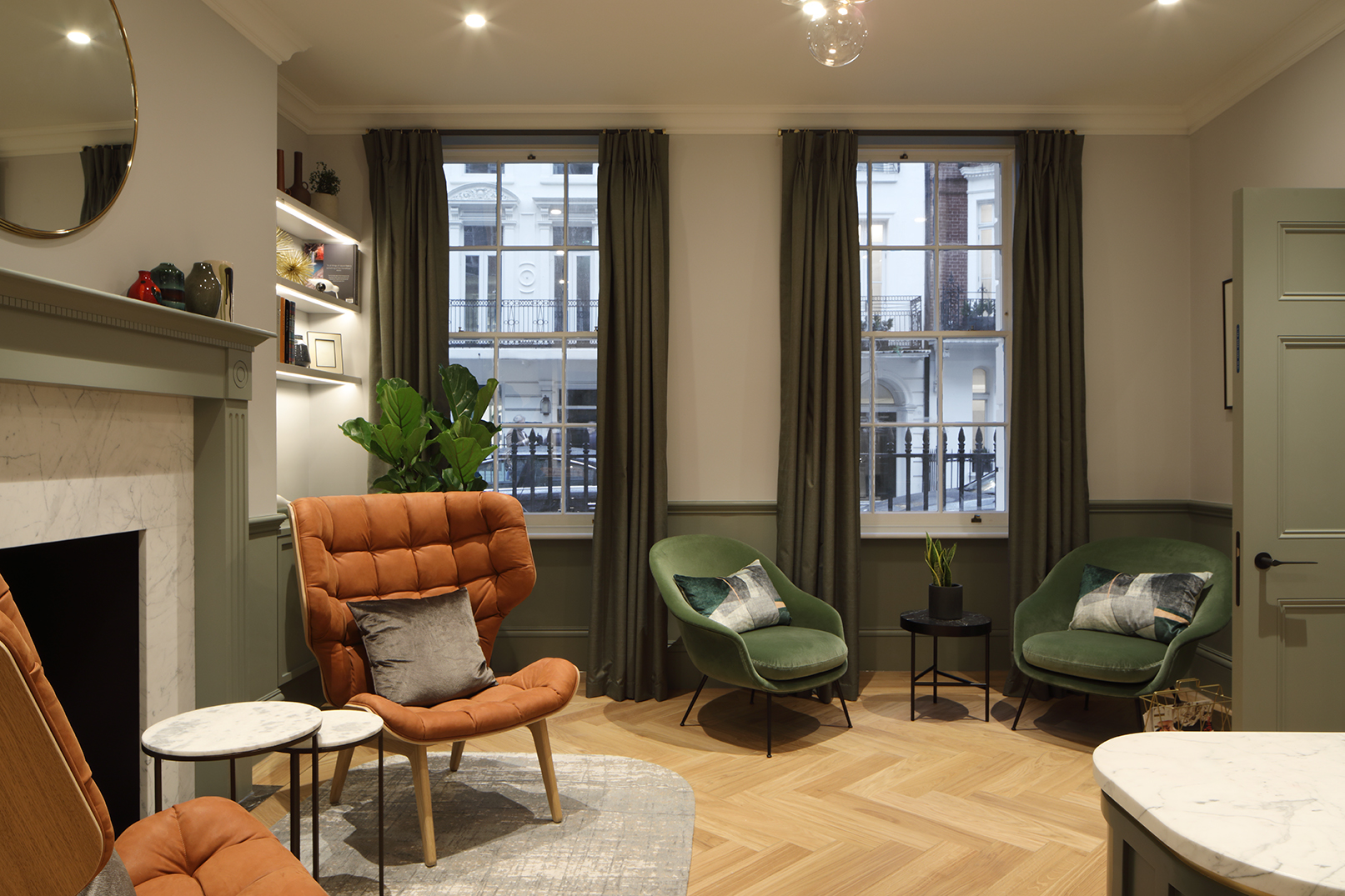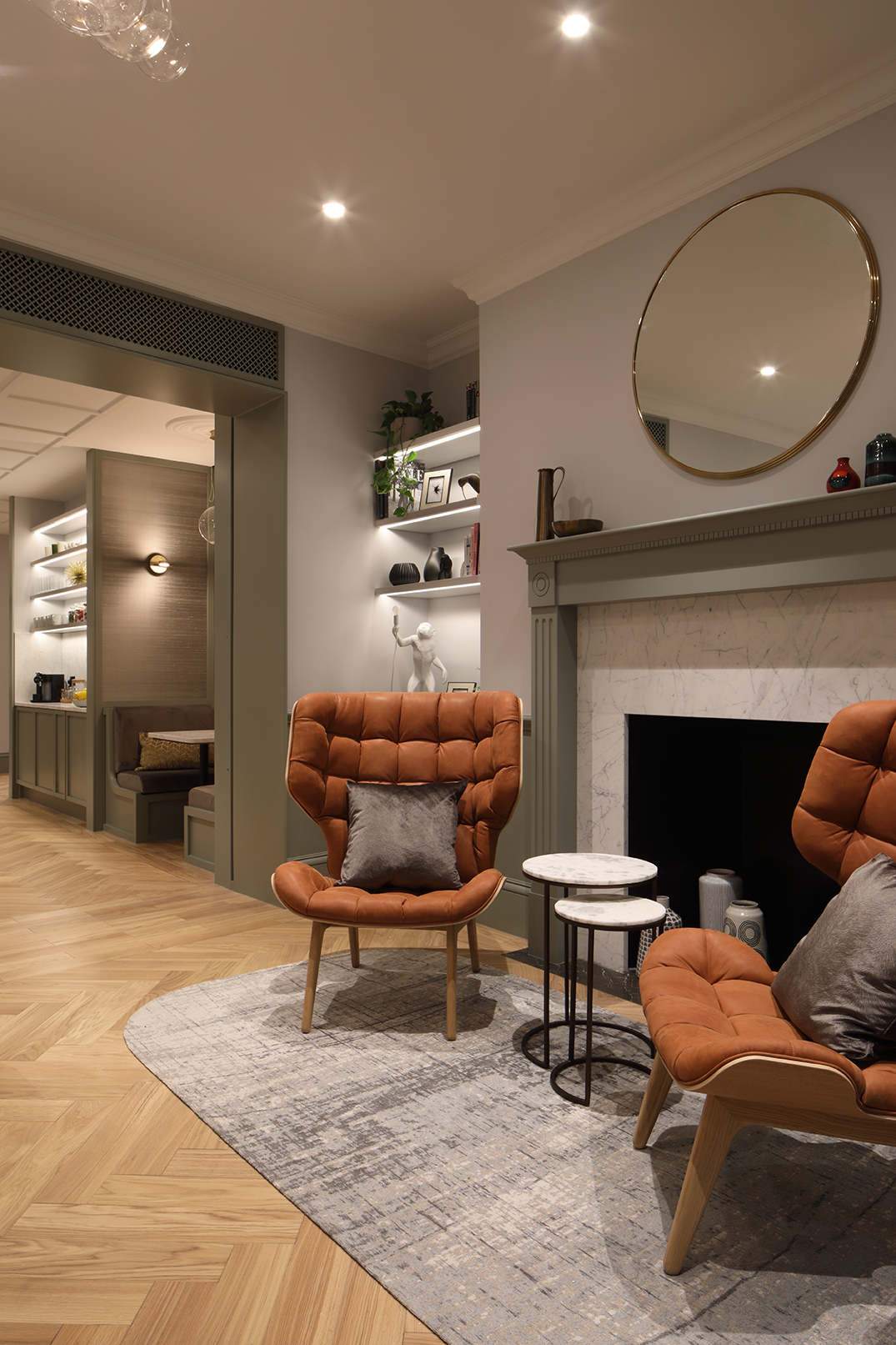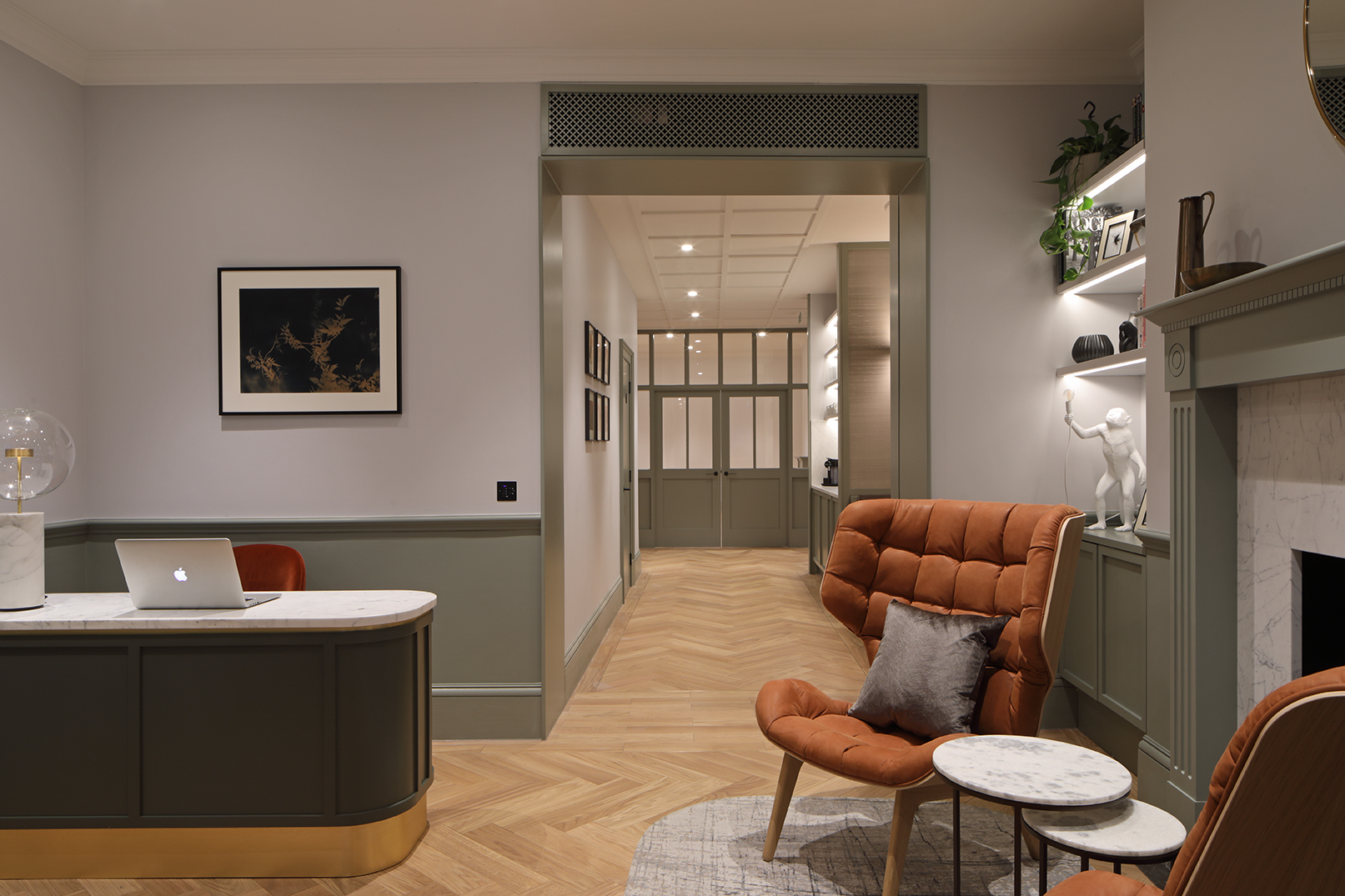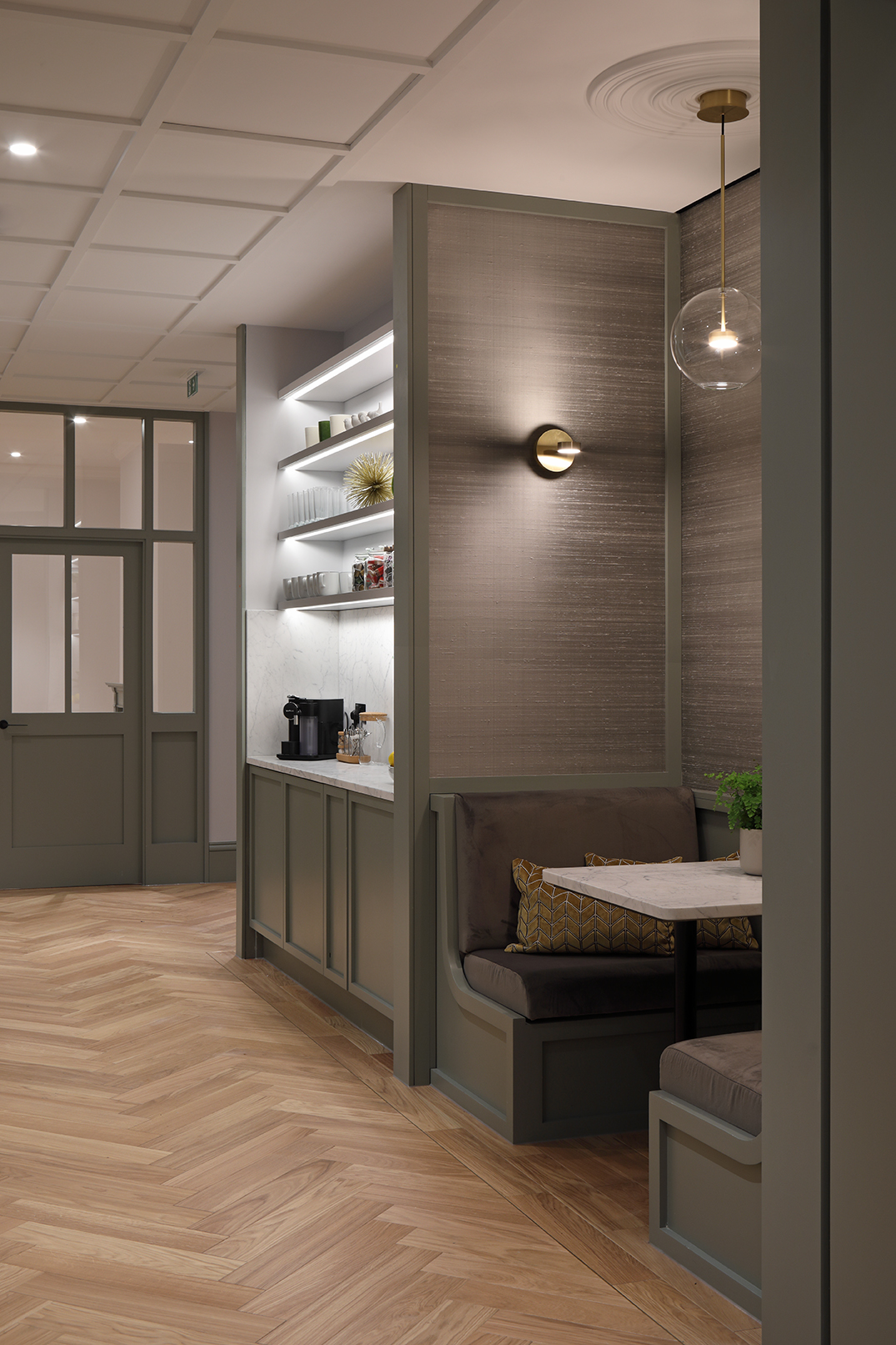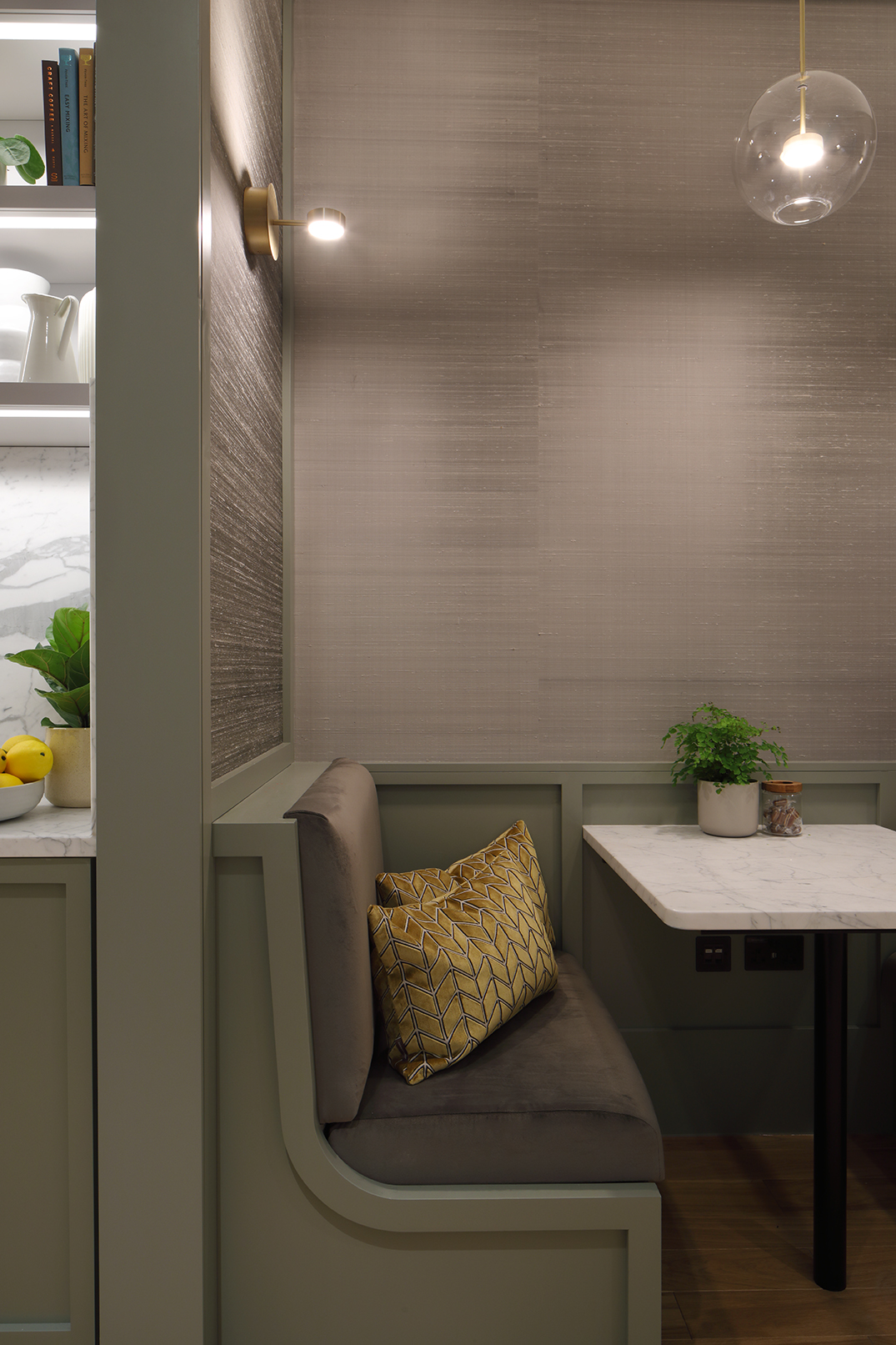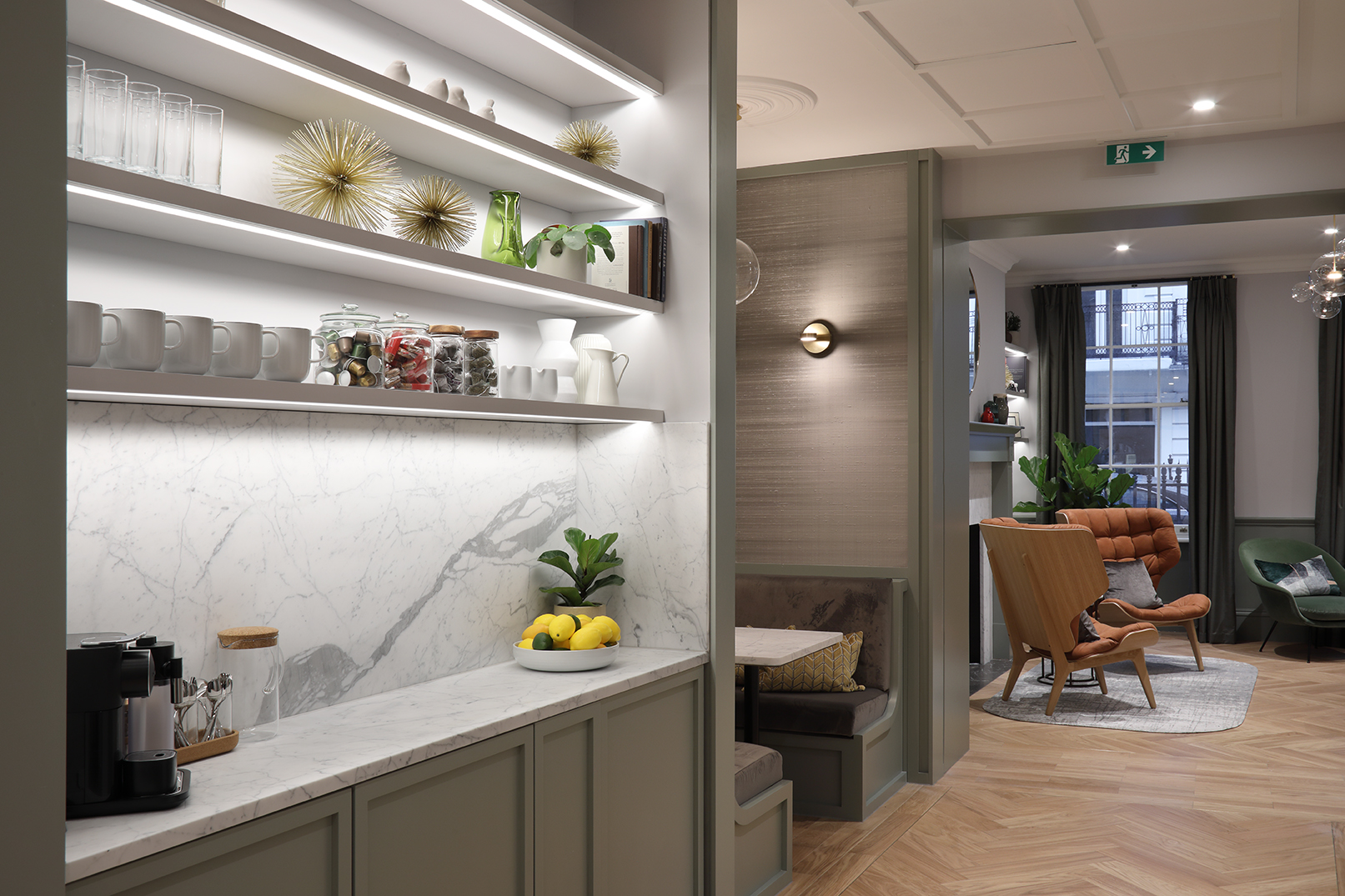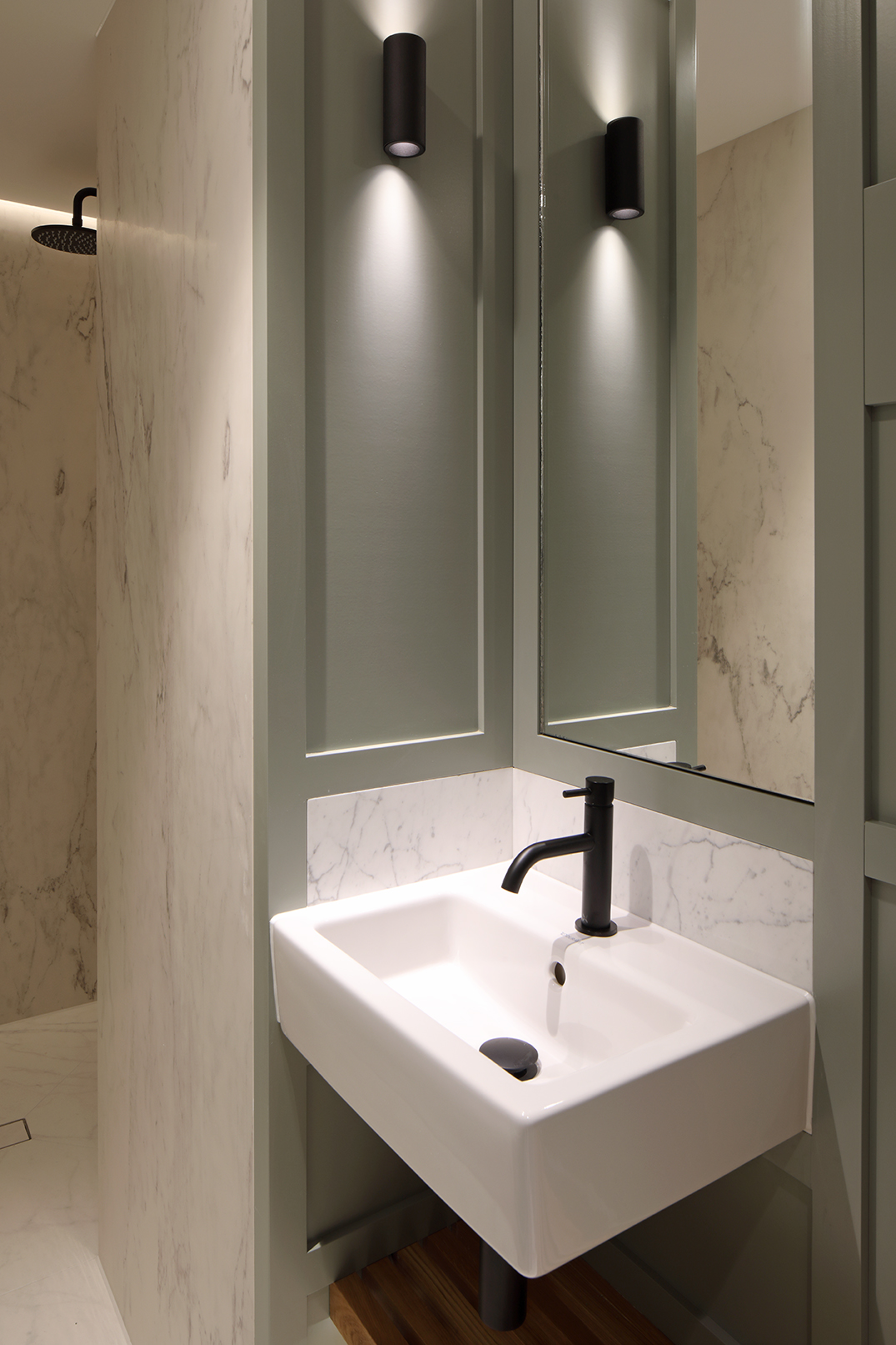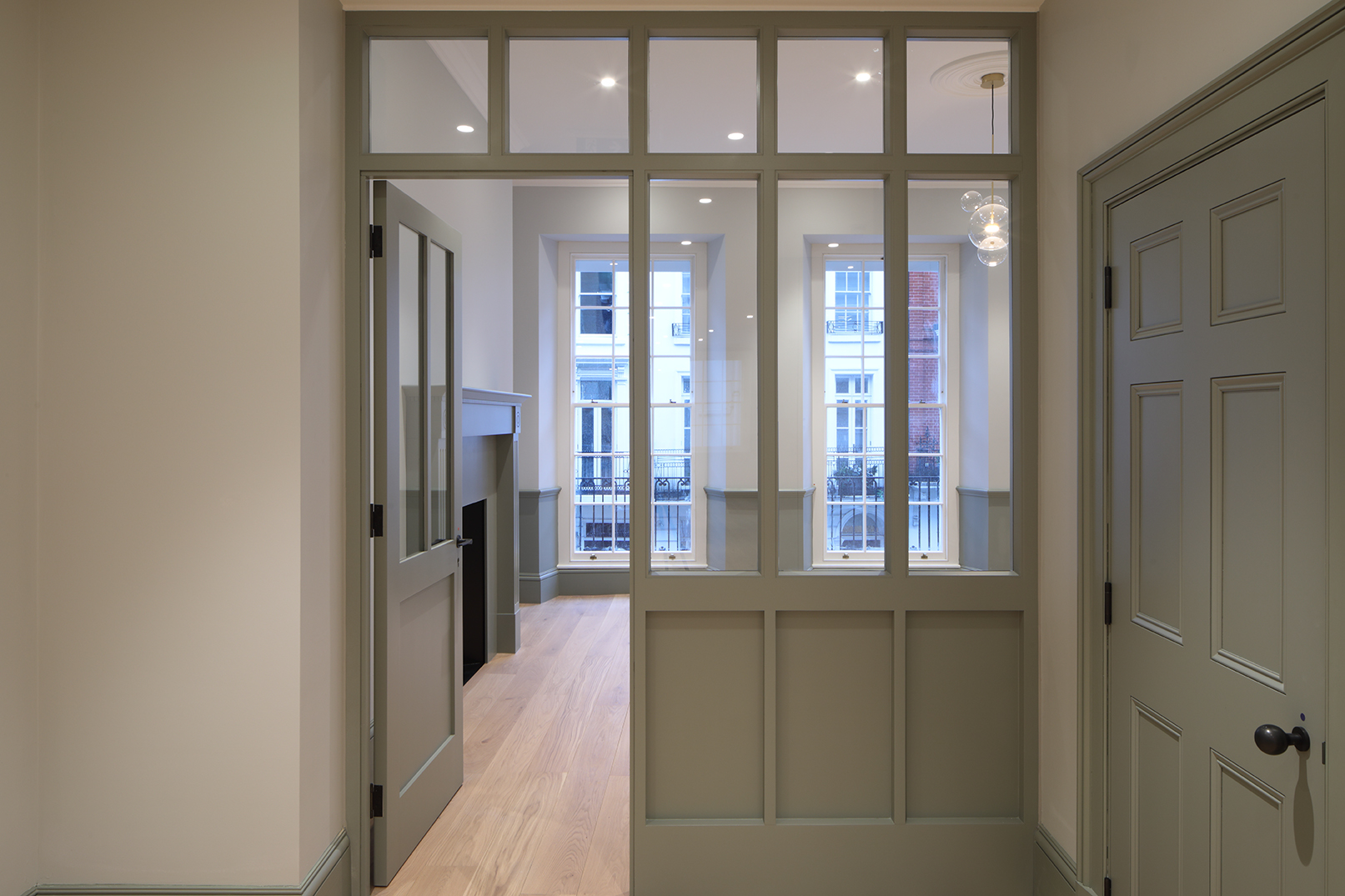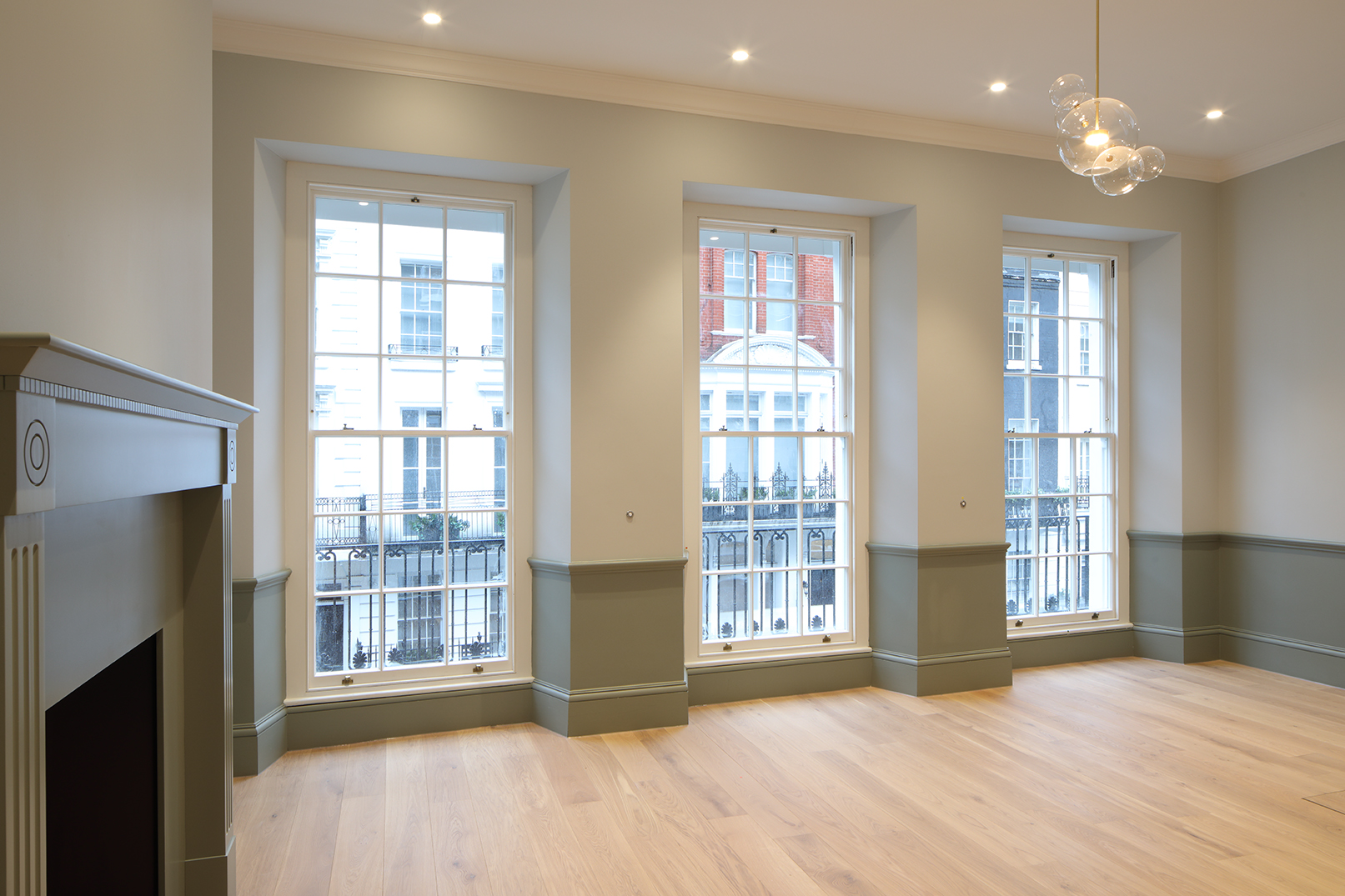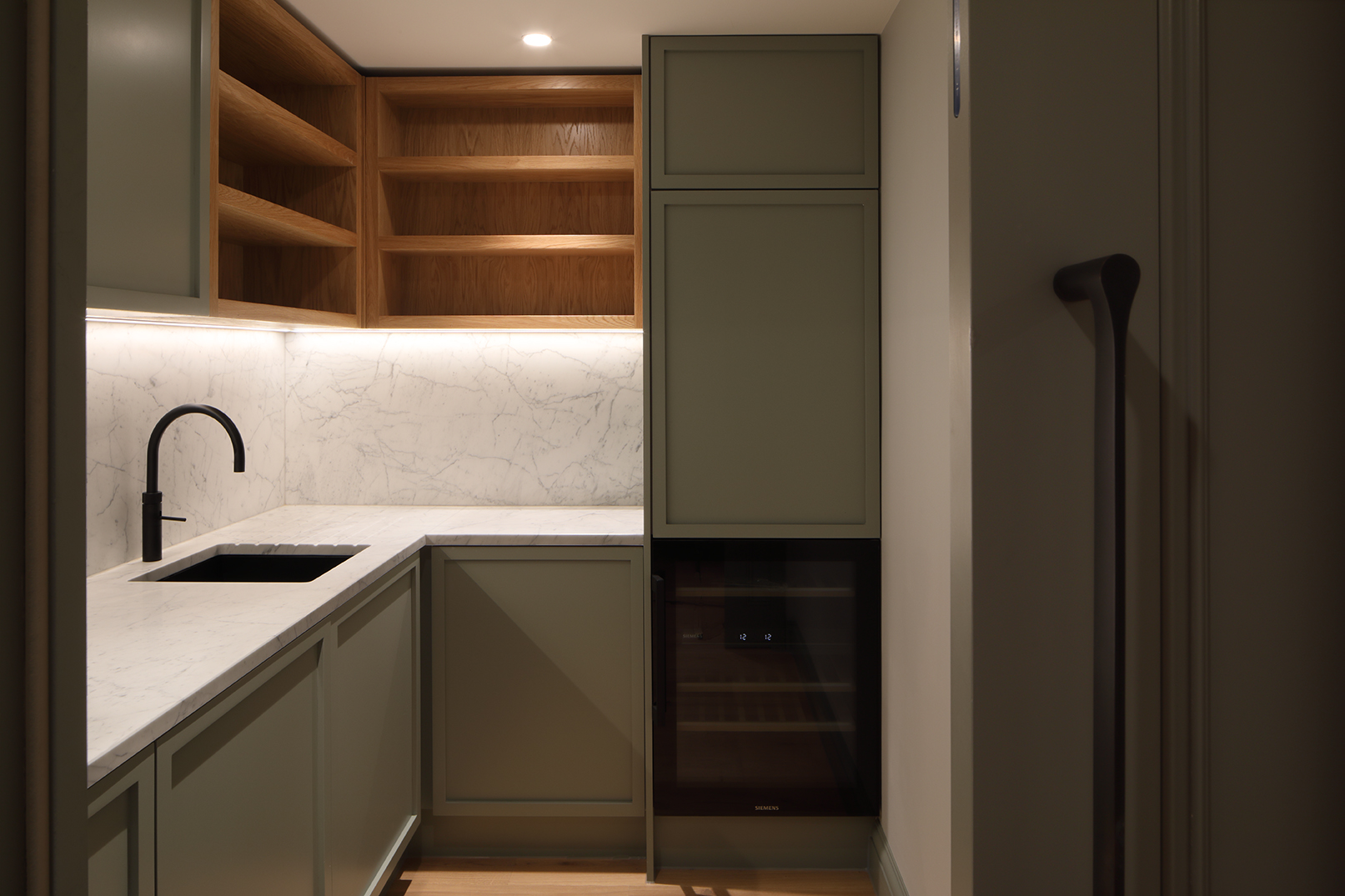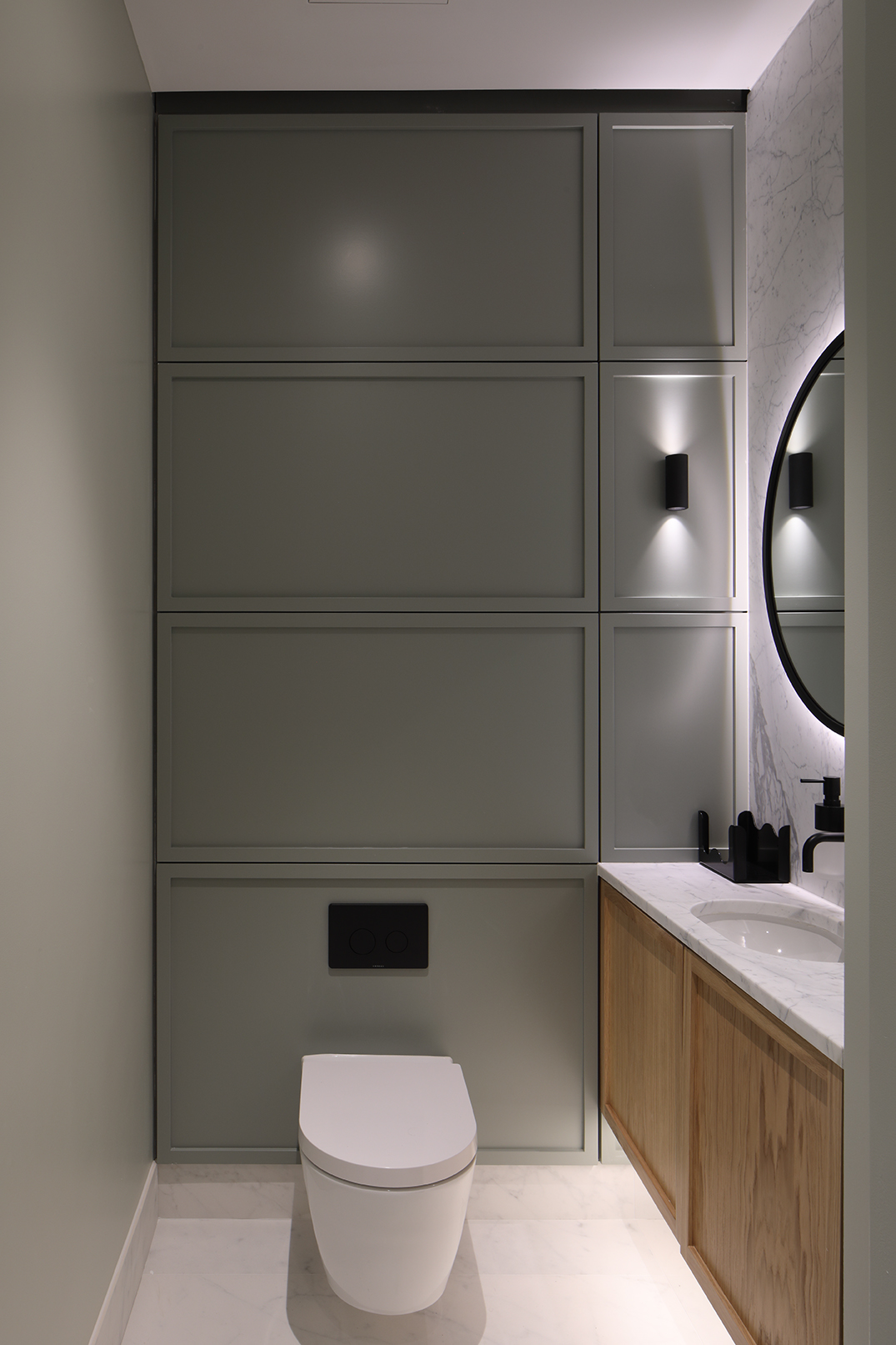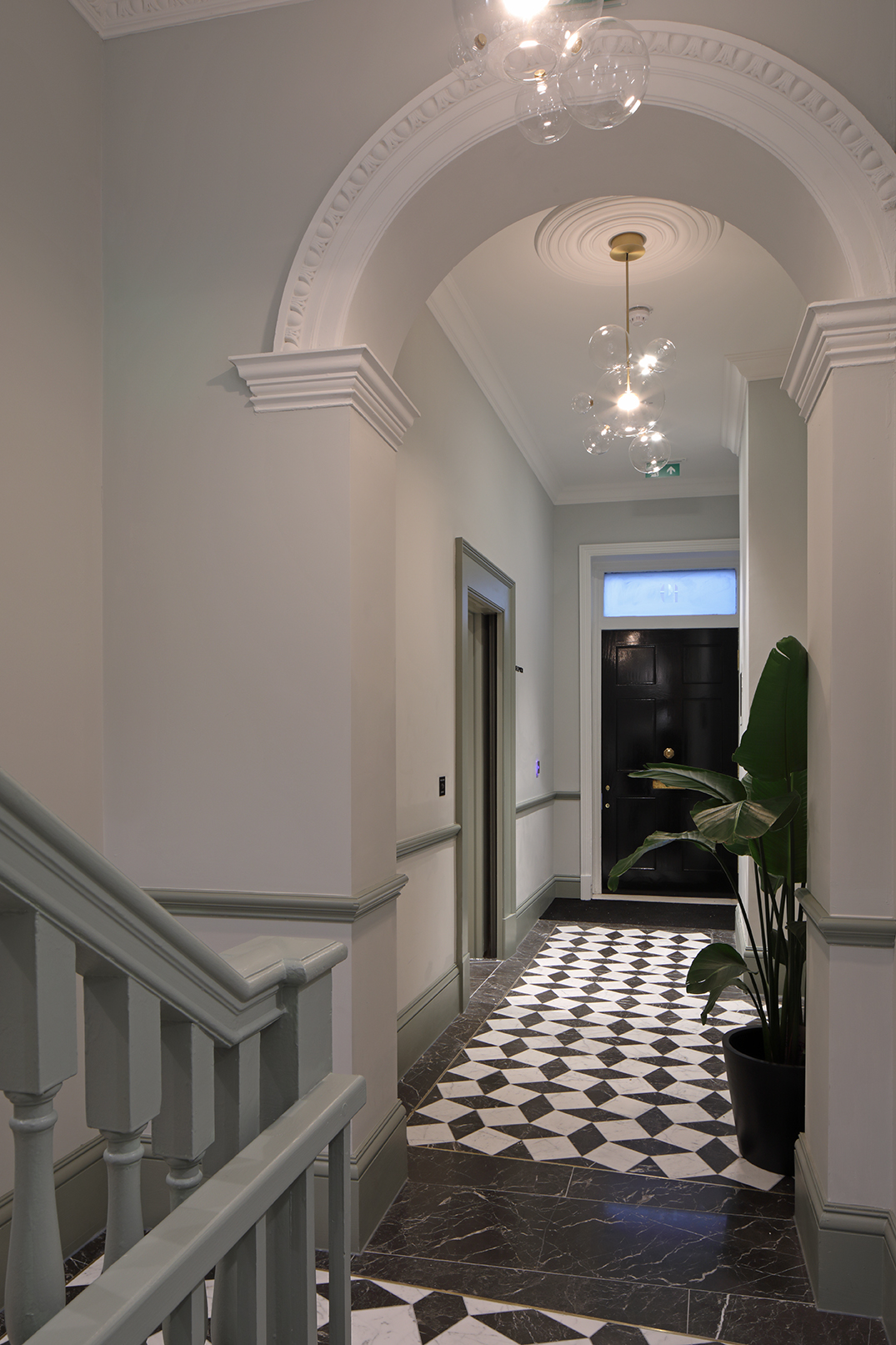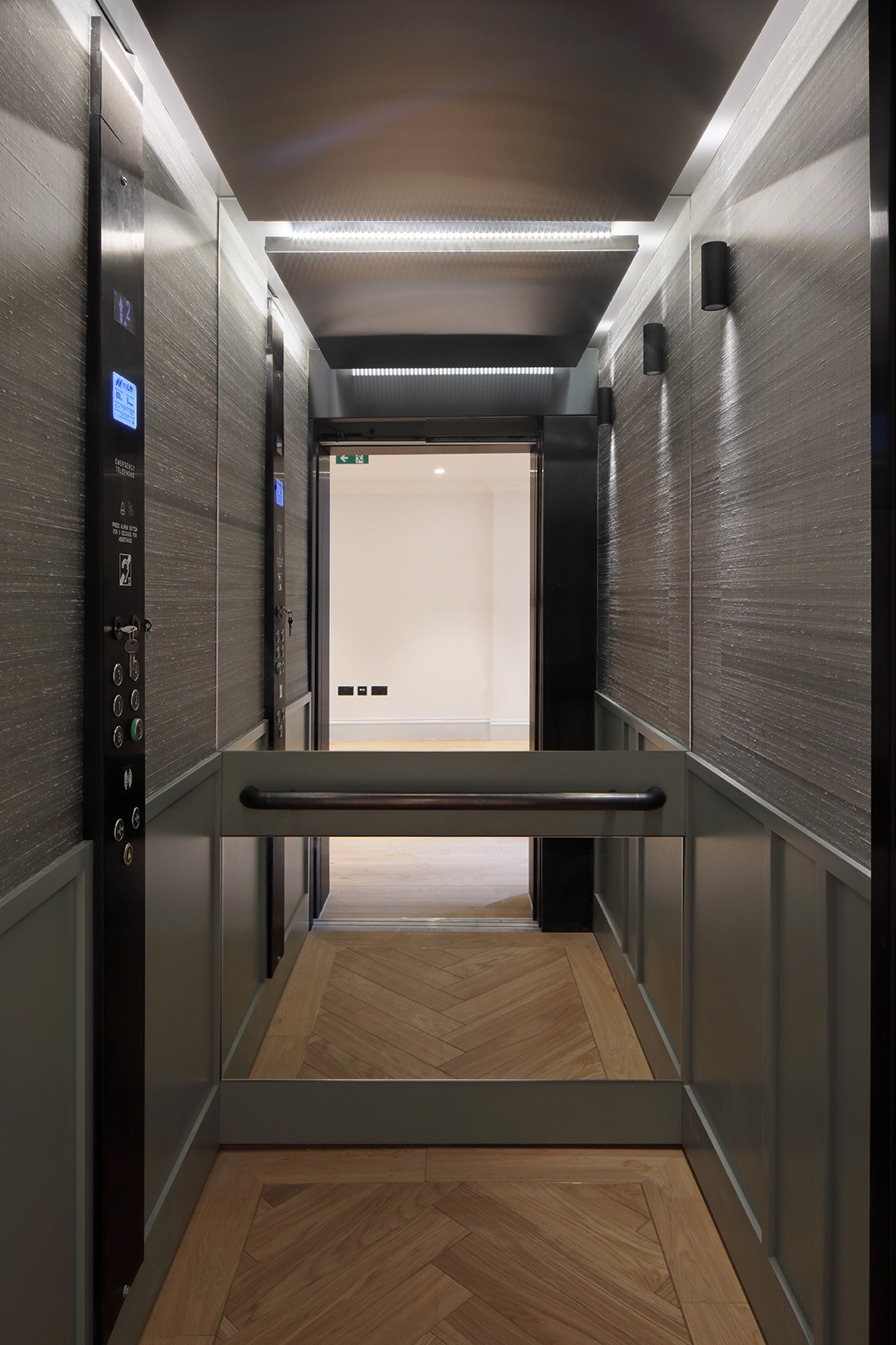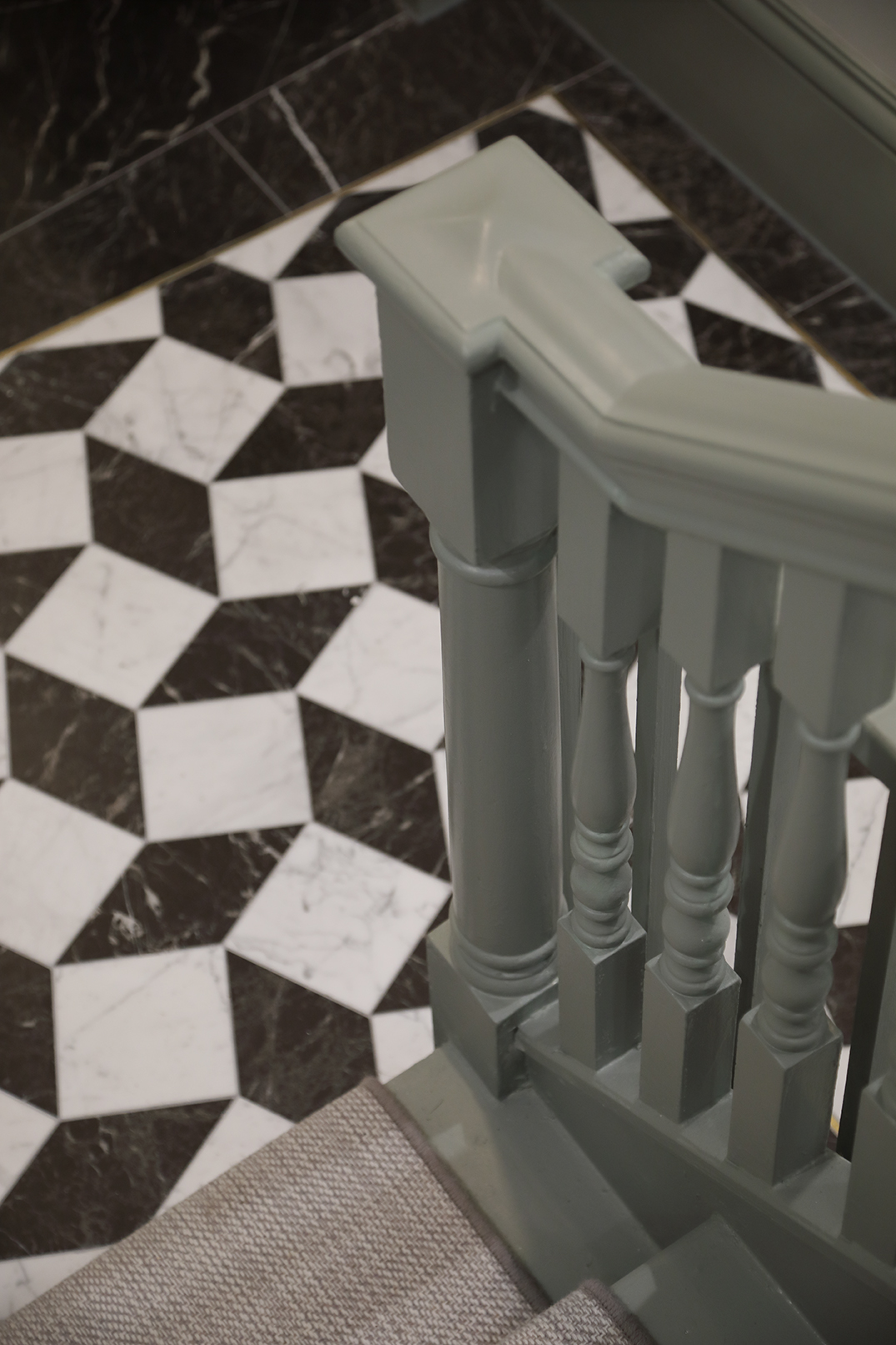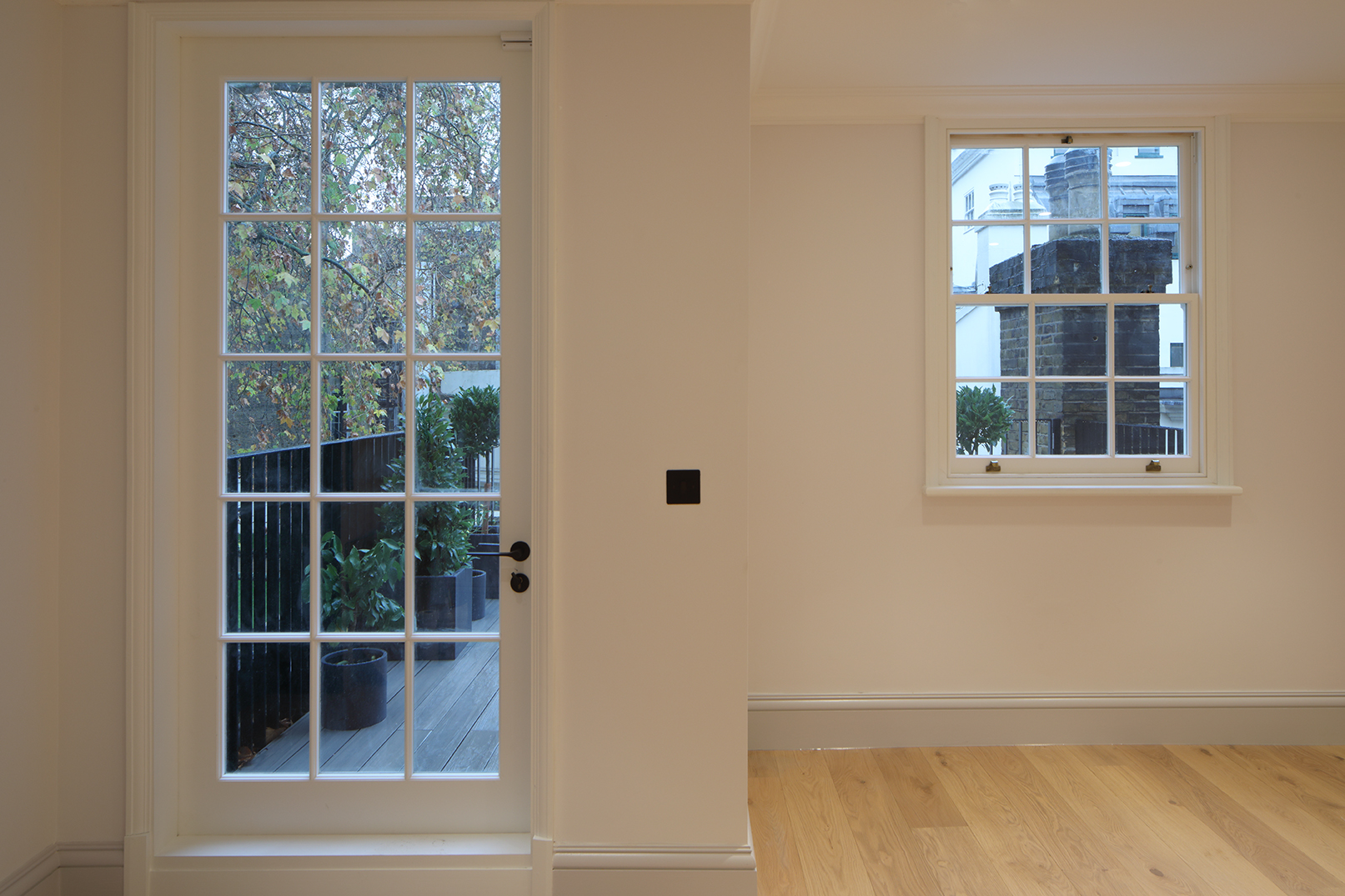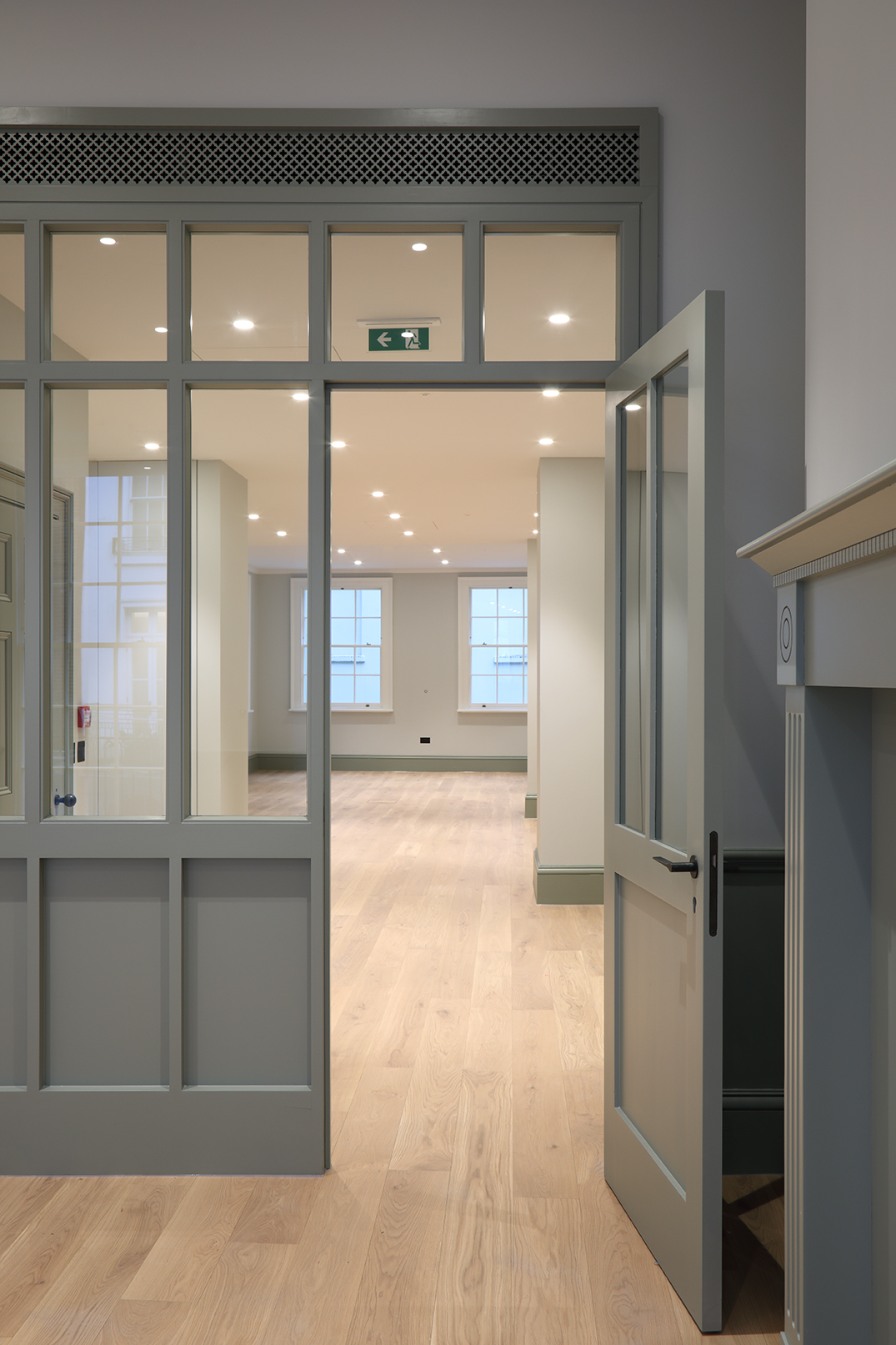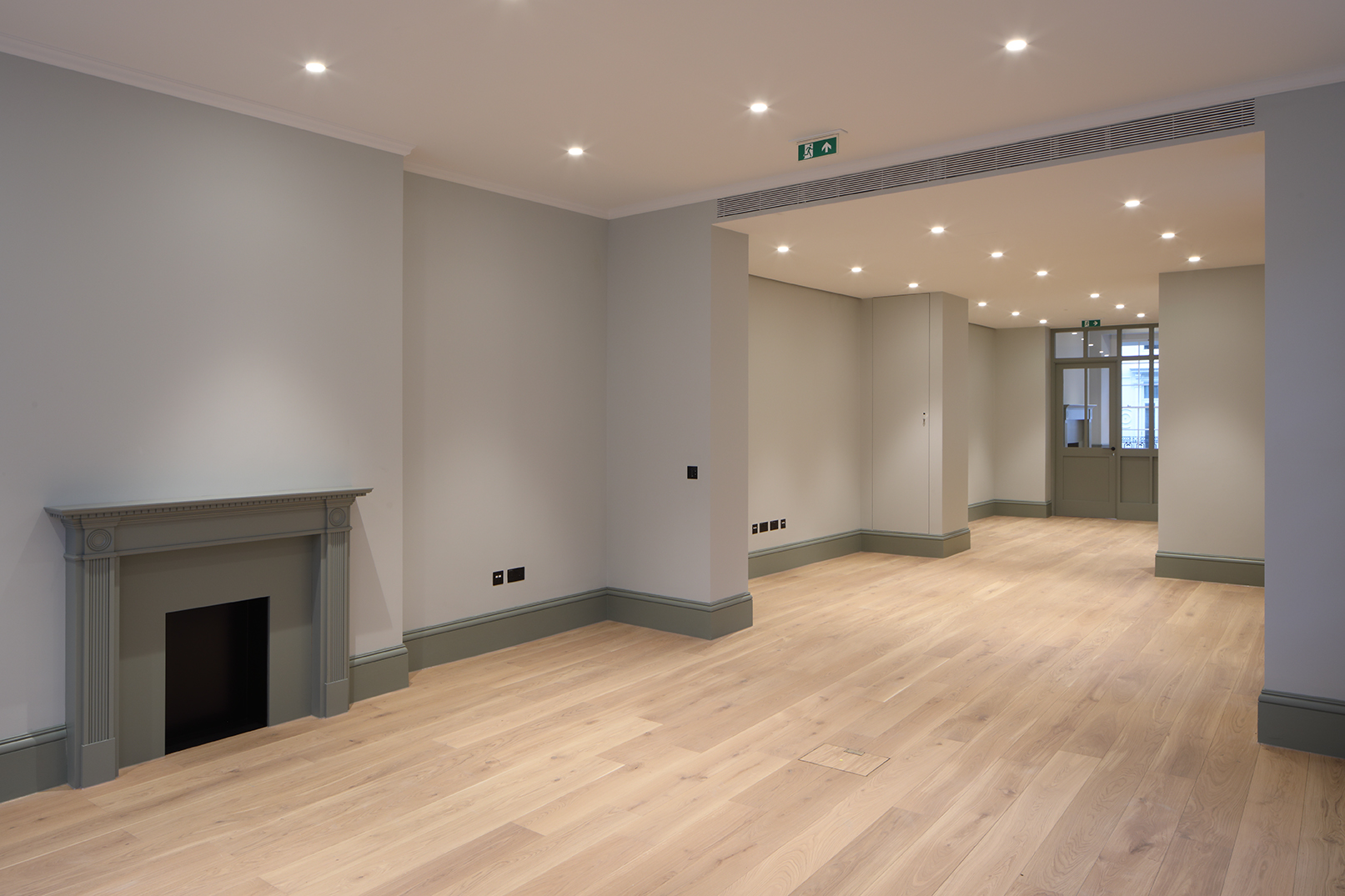 Queen Street, Mayfair
Location

Mayfair

Use

Office / Workspace

Client

Confidential

Size

570 sqm / 6,170 sqft GIA

Date

2018 - 2021
Having sat empty for over 20 years following an unsympathetic restoration in the 1980s, Fathom was approached to sensitively revive this Grade II listed Georgian townhouse by creating a boutique workplace in harmony with its Mayfair Conservation Area location.
It was important that our renovation contributed positively to the heritage setting and established a respectful relationship with the building's neighbour to the rear – the Grade II* listed Saudi Embassy.
Externally, we restored the handsome front elevation by stripping existing brickwork and applying a soot wash to create a cohesive colour across the facade. The building fabric was upgraded with a new roof, timber sash windows and restored metalwork, with the refurbished entrance framed by a pair of contemporary carriage lights.
Internally the plan respects its townhouse legacy with a welcoming and social ground level, grand boardroom at first floor and flexible office spaces on the upper levels. Our retrofit scheme introduced contemporary versions of heritage features including ceiling roses, timber panelling and cornices, and established an interior palette paying homage to Georgian hues of green and grey with accents of rust.
The entrance hall showcases a playful monochrome patterned floor – using Mira and Statuarietto marble with brass trims – and feature pendant lights by Giopatto & Coombes to create an impact on arrival. Refined metal signage directs visitors to the reception, conceived as a generous lounge space with oversized oak parquet floor, a grand fireplace and contemporary joinery with integrated lighting. A bespoke low-level marble and timber reception desk creates a more domestic feel, along with floor length curtains, rugs and comfortable chairs upholstered in rich leather and velvet fabrics.
Leading off the reception, a marble-topped tea point and integrated velvet banquette seating area – lined with textured Shantung Silk wallpaper – creates an inviting space for informal meetings or coffee breaks. The ground floor is afforded character with a collection of curated objects celebrating modern craftsmanship, plants and a series of artworks by contemporary London-based artist Sophie Coe.
Workspaces on upper levels are served by a customised lift and the original staircase refurbished with new runner, stair rods, wayfinding and contemporary lighting.
Office layouts reference the historic sequence of rooms which define each level, articulated with custom timber and glass screens. The first-floor boardroom contains a reinstated fireplace and feature pendant light as well as LED downlighters with scene setting capabilities and oak floorboards. Throughout the building, modern services and high specification technology meets current workspace needs.
Further tenant amenities include a shower room with changing area, timber panelled WCs and a dedicated kitchen with built-in appliances. To the rear of the building, a new lightwell draws fresh air and daylight into the ground and basement levels to create an attractive courtyard garden, with two additional external terraces on the upper floors.
Fathom's sensitive retrofit has given new life to a redundant listed building in a historic context, and ensures its relevance for the future as a workspace which meets the needs of current occupiers.
'Our experience with Fathom on the project to date has been both hugely positive and enjoyable. Jonathan and the team are thoughtful, detailed, enthusiastic and, most importantly, creative. In addition to this they are always on the front foot, making deadlines feel more spacious and project meetings far more productive for the whole team. We would gladly recommend them on all aspects from concept through delivery.'
Simon Morgan, Asset Management, Morgan Capital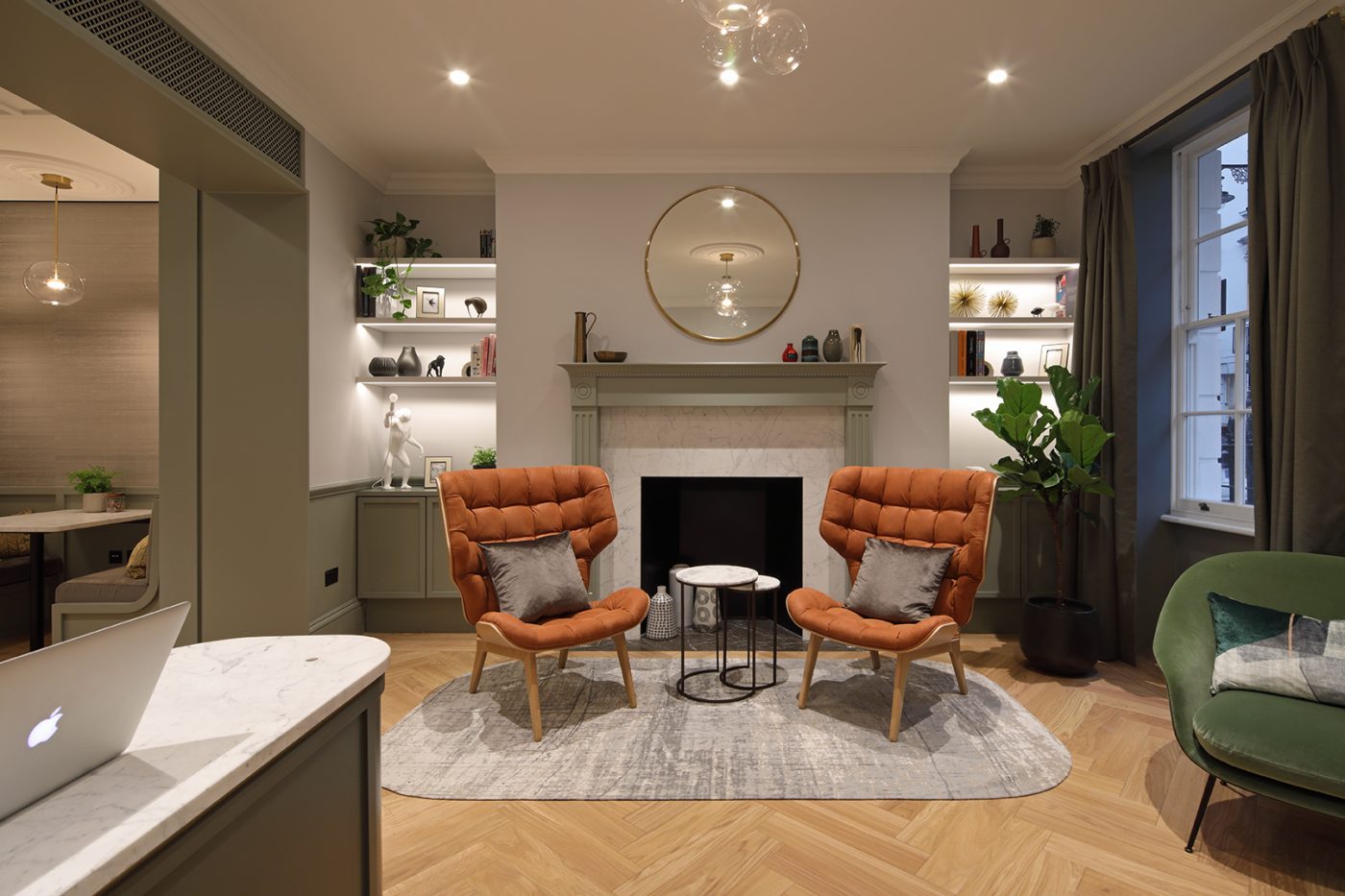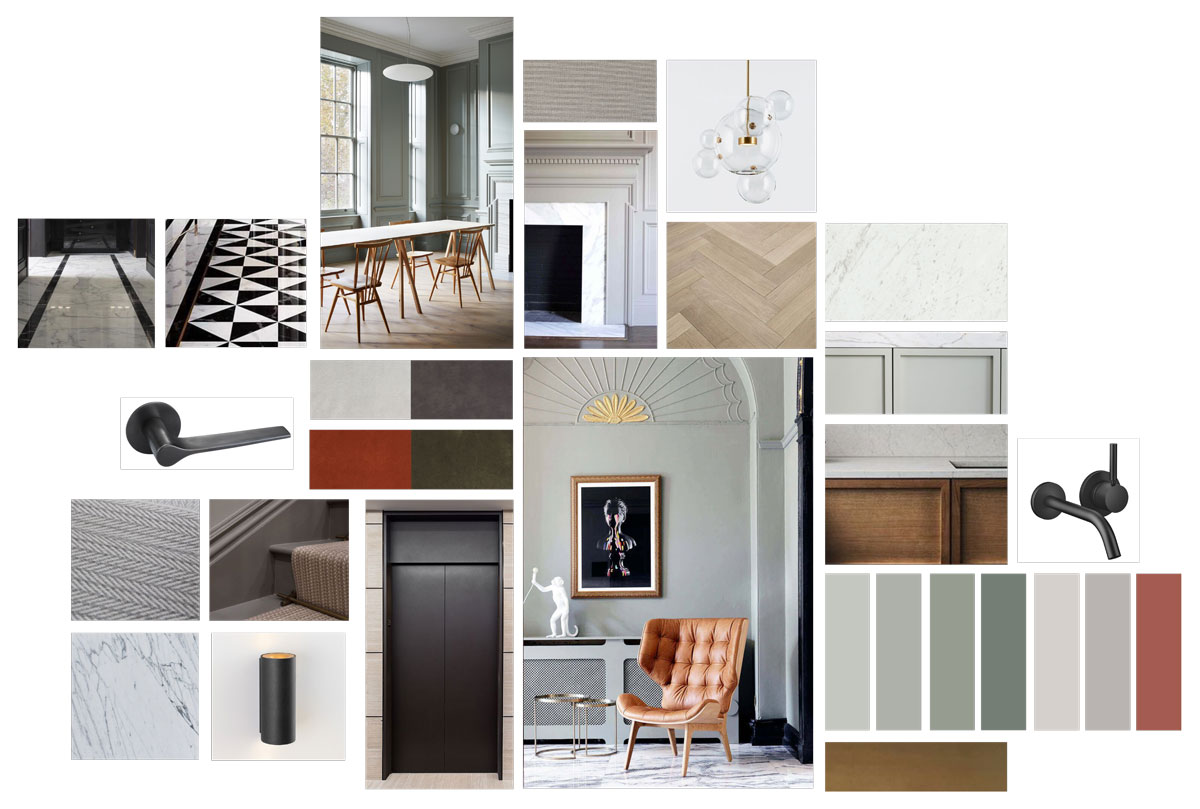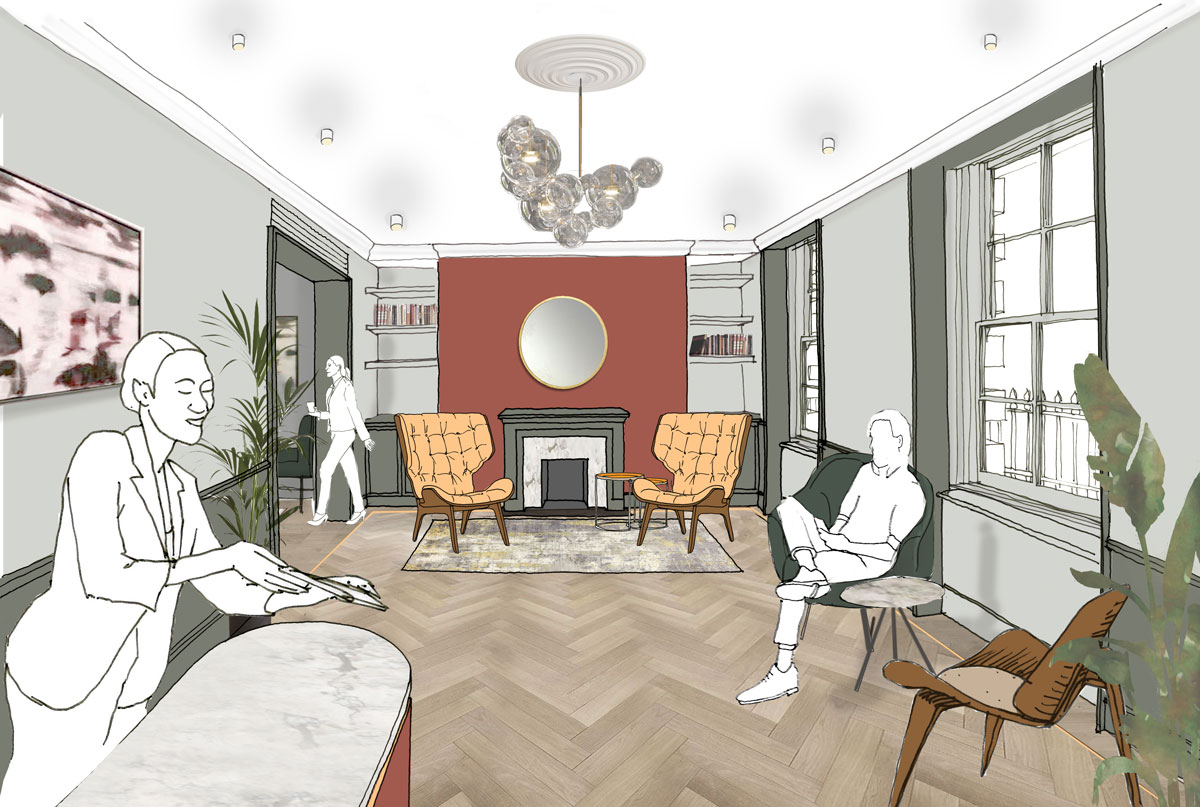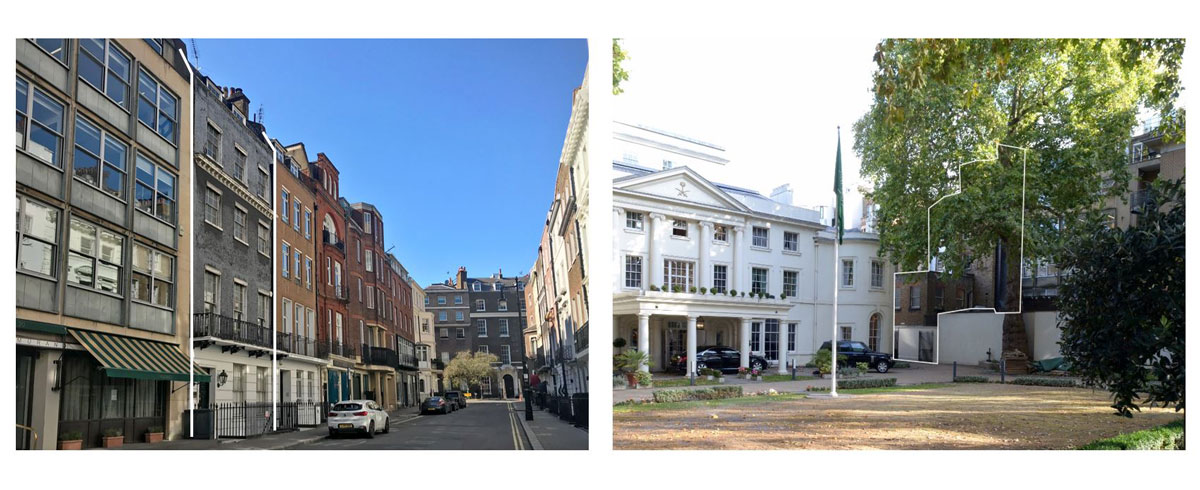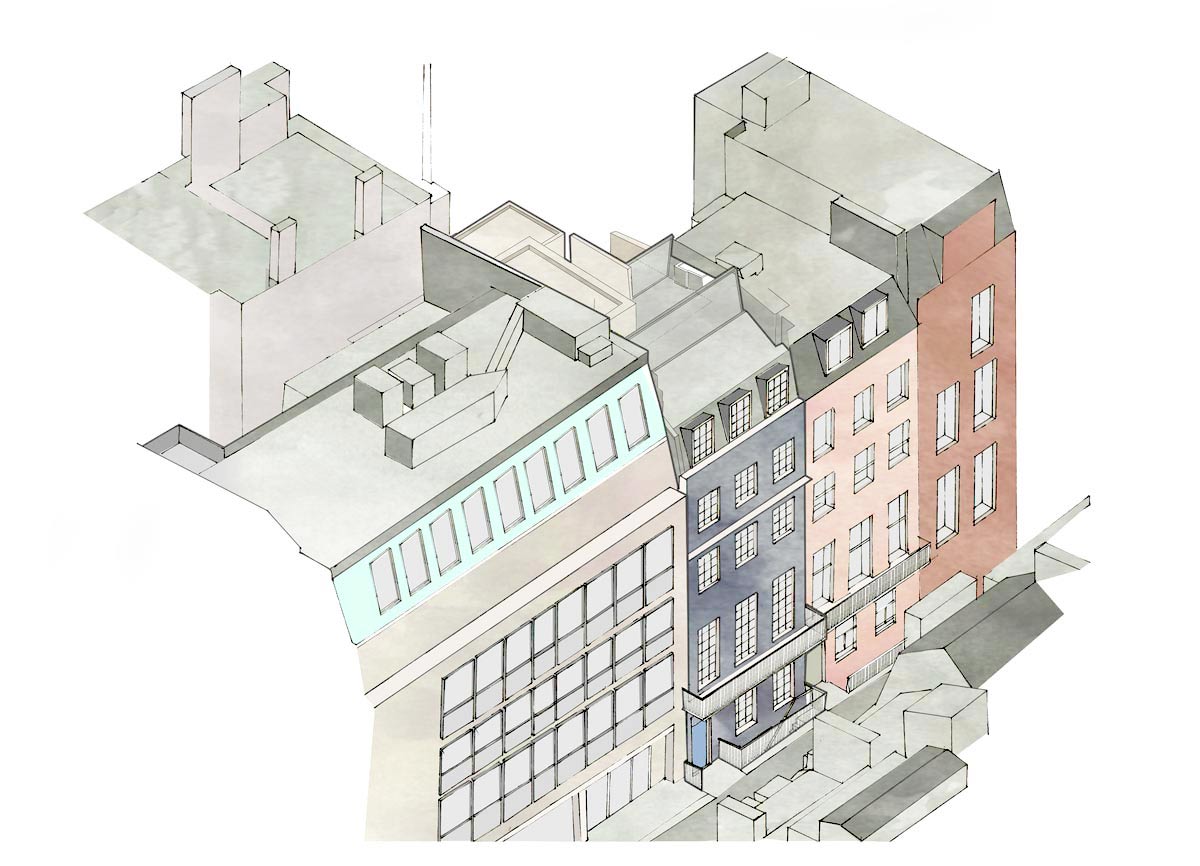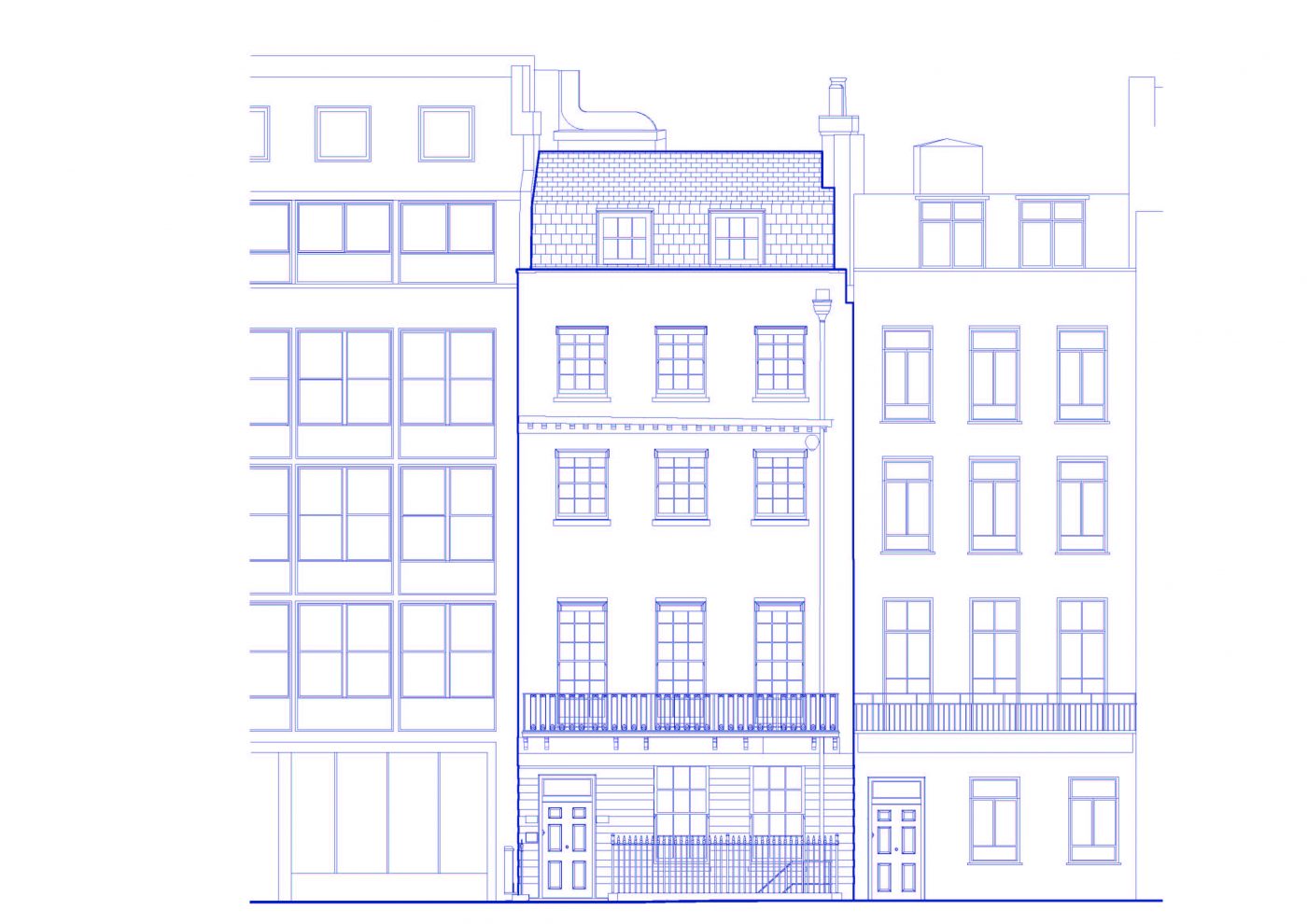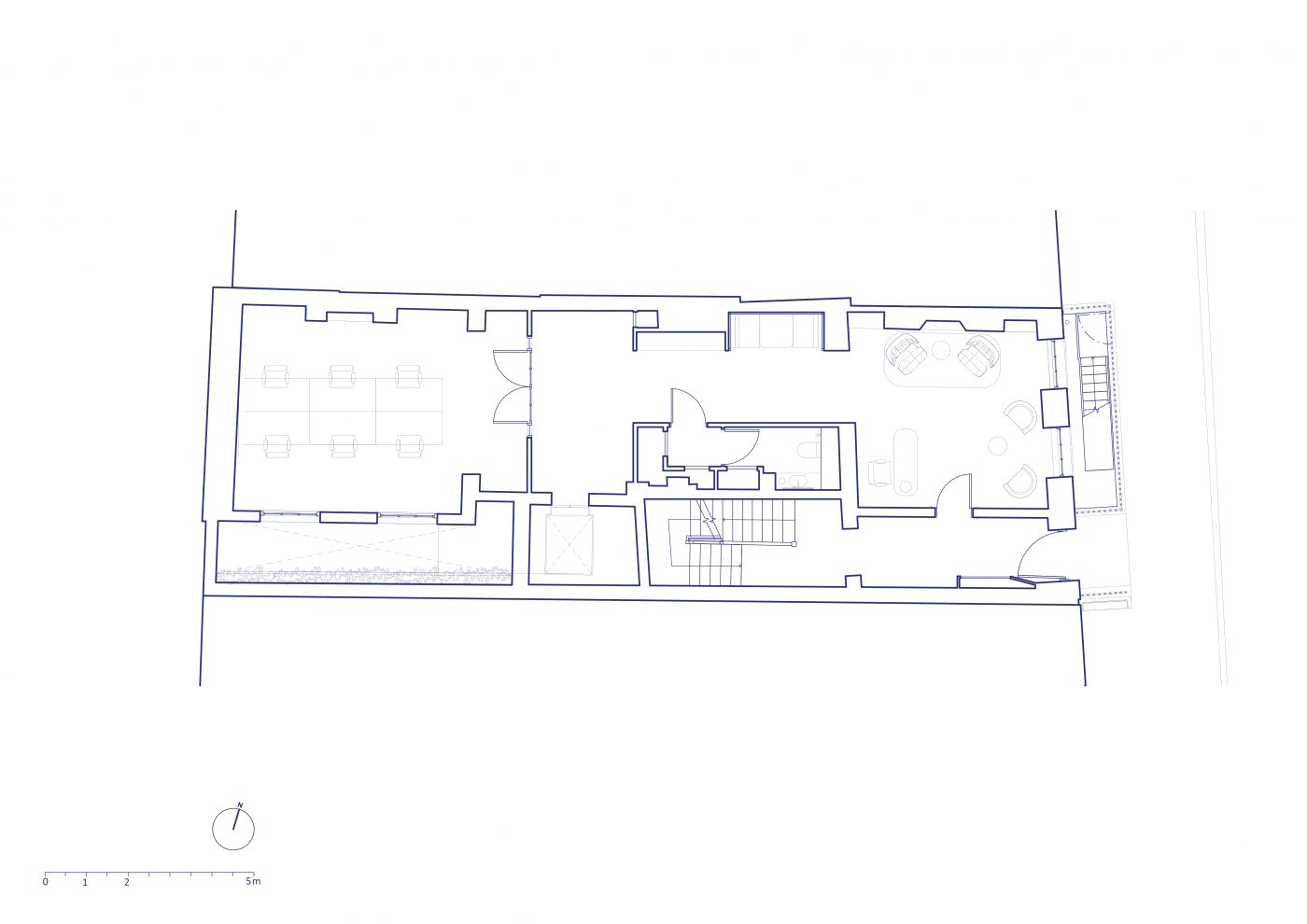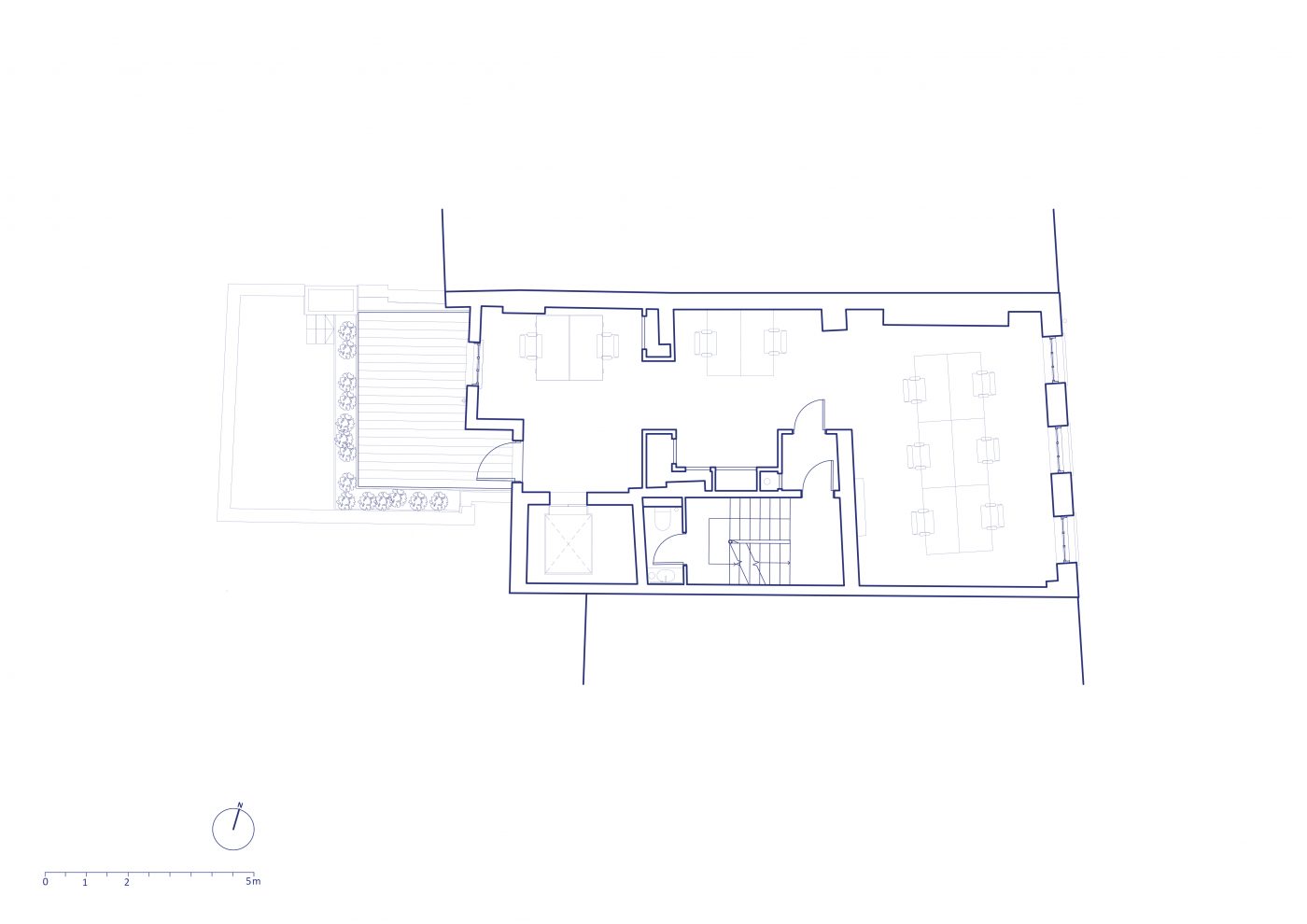 Uncovering Georgian details
An additional layer of 'pugging' boards was revealed when the suspended ceilings were removed. Fitted between the joists, these very rare features were the Georgian answer to sound insulation. Usually, these would then be covered with a layer of plaster.
Other interesting reveals are the beautiful diagonal cross bracing between joists helps to stiffen the floors and the large Georgian sash windows which flood the first floor with light.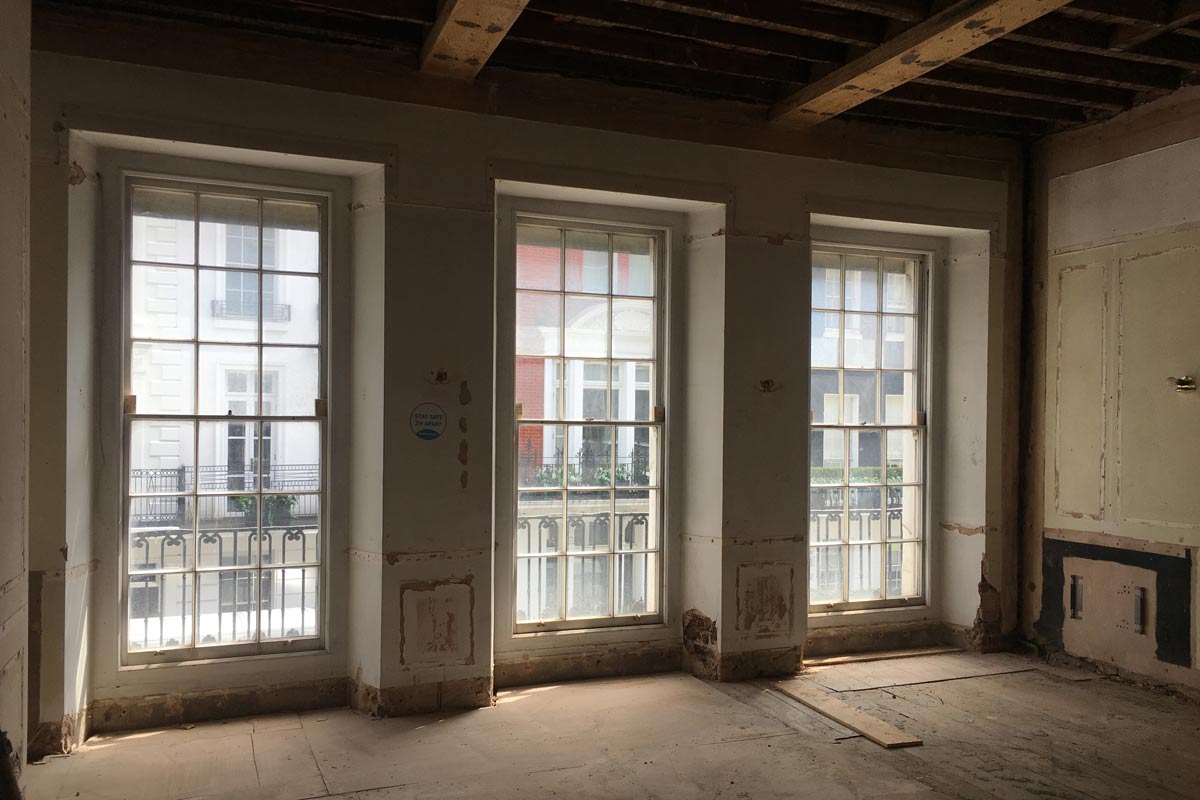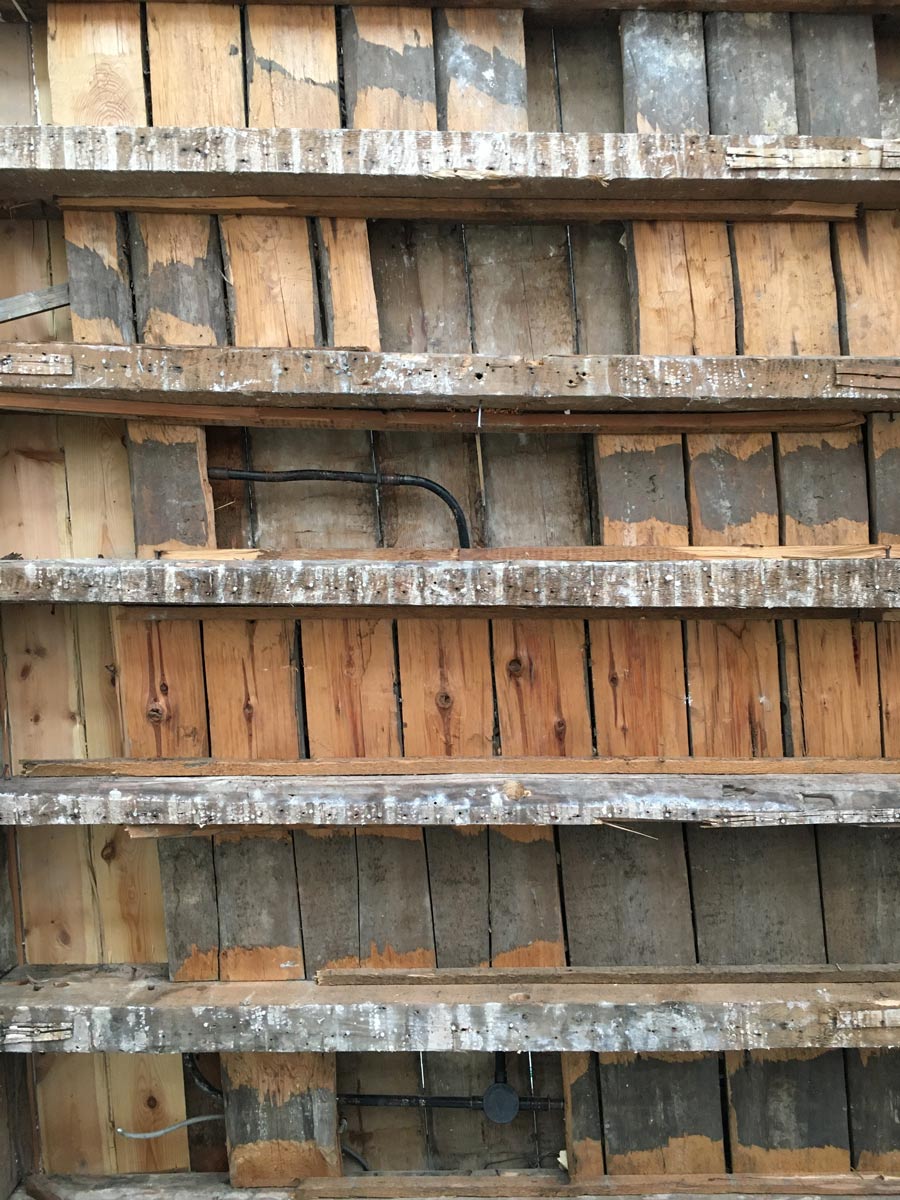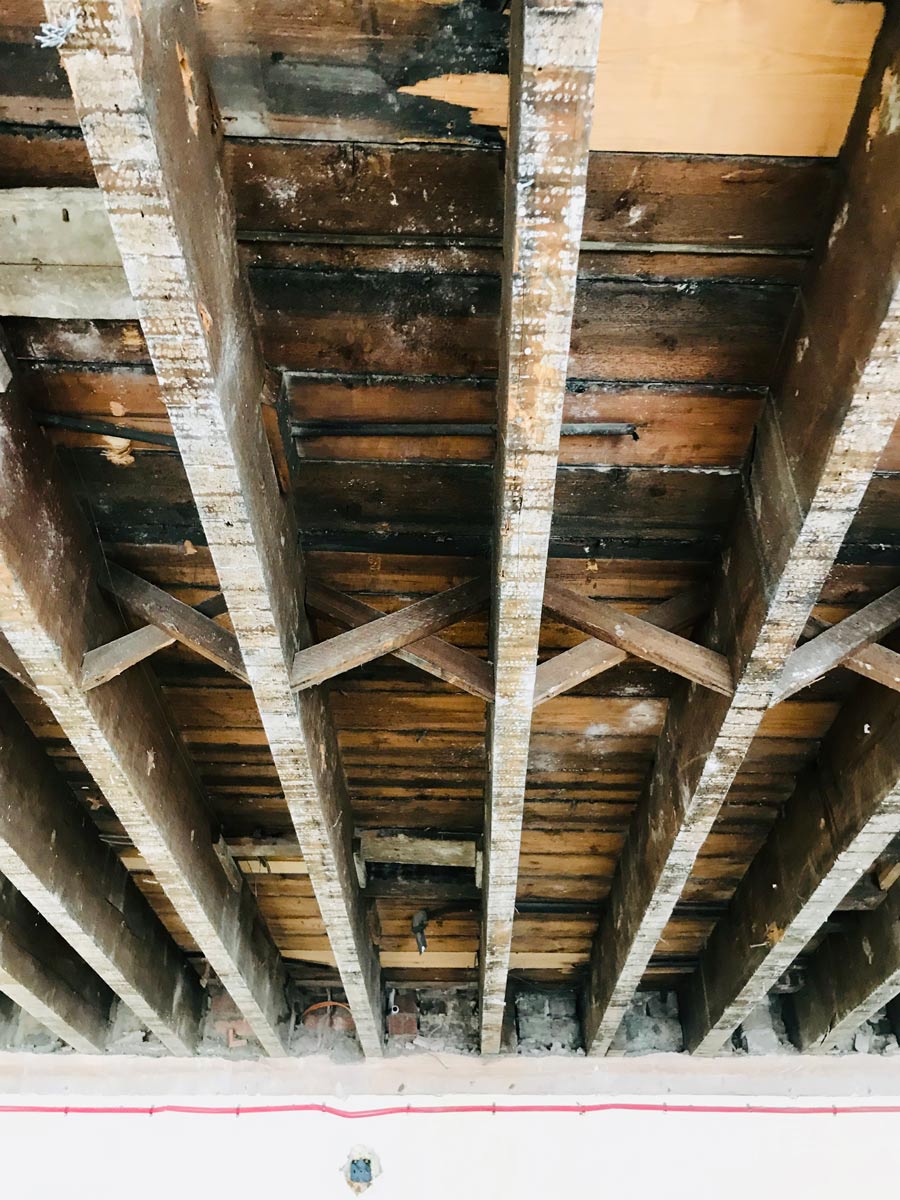 Development Manager

Morgan Capital

Interior Design

Fathom Architects

Planning

Gerald Eve

Heritage

Bidwells

Costs

Quantem Consulting

Structure

Lucking and Clark

Services

Sweco

Environmental

Sweco

Contractor

Quad

Furniture Supplier

Coexistence